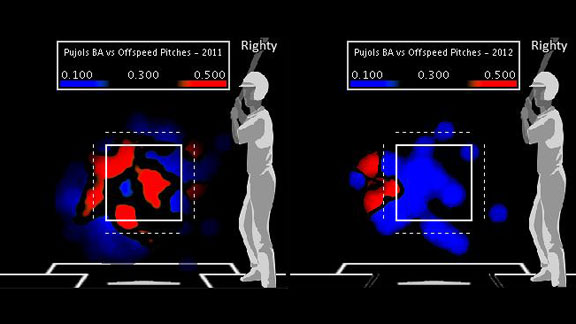 ESPN Stats & Information
Albert Pujols has yet to hit a home run for the Los Angeles Angels, and most of his trouble this season has been with offspeed pitches.Albert Pujols continues to struggle since joining the Los Angeles Angels, going 0-for-3 on Wednesday as the Angels lost 3-2 to the Tampa Bay Rays.
Pujols has not recorded a hit in his last 19 at-bats. According to the Elias Sports Bureau, that is the longest hitless streak of his major-league career. He failed to get a hit in 18 consecutive at-bats from August to September in 2010. It is only the fourth time in his career that Pujols has gone more than 15 straight at-bats without a hit.
Dating to last season, he has failed to hit a home run in his last 24 regular-season games, the second-longest streak in his career. Pujols had 26 straight games without a home run last season.
The home run drought to start the season has reached 72 at-bats. Pujols hit 37 homers last year for the St. Louis Cardinals. Elias reports that his season-opening drought is the second-longest to begin a season by a player who hit at least 35 home runs for a different team the previous season. After hitting 46 home runs for the Washington Nationals in 2006, Alfonso Soriano didn't hit a homer until his 75th at-bat for the Chicago Cubs in 2007.
Albert Pujols vs Offspeed Pitches
The problem for Pujols this season has been offspeed pitches. After hitting .302 with 12 home runs against such pitches last season, he is just 3-for-31 with no extra-base hits so far this year. His batting average against offspeed pitches was ninth in the majors last year; so far this year, he's barely in the top 200.
He has been struggling to hold off on slow pitches outside the strike zone. After chasing only 28 percent of offspeed pitches outside the strike zone last year, he has swung on 31 of 62 such pitches so far this year. Two of his three hits against offspeed pitches this season are on pitches outside the strike zone … on those inside the zone, he is just 1-for-19.
Around the Diamond
• Clay Buchholz allowed five earned runs in 5⅓ innings against the Minnesota Twins. He's the only Boston Red Sox pitcher in the Live Ball Era to allow at least five earned runs in each of his first four appearances in a season.
• Robbie Ross picked up another win in relief for the Texas Rangers. Ross is the first pitcher in major-league history to record four wins in the first six appearances of his career as a relief pitcher.
• David Wright hit a two-run homer in sixth inning to move past Darryl Strawberry for the most RBI in New York Mets history. Strawberry had 733 for the club, and Wright now has 735.
• Jordan Zimmermann allowed a run in the fifth inning for the Nationals, snapping a franchise-record 26-inning scoreless streak for Nationals starting pitchers.
• Pablo Sandoval extended his hitting streak to 18 games. That ties the Giants franchise record for longest hit streak to start a season. Johnny Rucker hit safely in 18 straight games to start the 1945 season.
Ryan Feldman contributed to this post