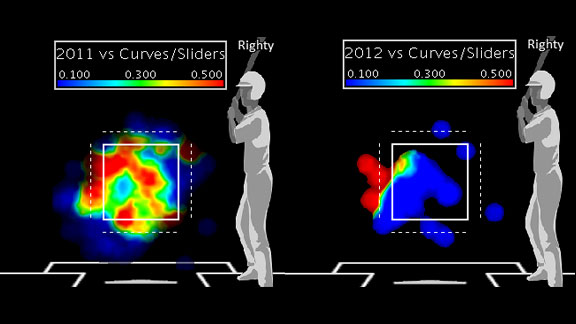 ESPN Stats & Information
Among his many struggles in 2012 has been Albert Pujols' inability to hit breaking balls.
According to the Elias Sports Bureau, 247 players have hit a home run this season.
Albert Pujols is not one of them.
PujolsPujols' 0 HR in 92 at-bats this season is the third-longest homerless streak to start a season by a player with at least 400 career HR, according to Elias. Only Eddie Murray (109 in 1996) and Ken Griffey Jr. (98 in 2010) had longer streaks.
Pujols was supposed to be the talk of southern California, not the Los Angeles Dodgers Matt Kemp, who leads the National League in all three Triple Crown categories.
Kemp (.425, 12 HR, 25 RBI) had a season-high four RBI on April 14 against the Padres. That's as many RBI as Pujols has this season.
Let's go a little deeper.
Kemp struck out 159 times last season, 101 more than Pujols. Yet, a month into the season, Pujols is the hitter who has seen more two-strike counts. Kemp has thrived in such situations. Pujols has not (see chart).
Let's go even deeper on Pujols' two-strike issues.
Pujols has 98 plate appearances this season; 53 of those plate appearances have ended in two-strike counts (55 percent). From 2009-11, 41 percent of Pujols' plate appearances went to two strikes.
What led to this?
Kemp vs Pujols This Season
Early in at-bats, Pujols is fouling off more pitches and taking more strikes. He is putting the ball in play on less than 40 percent of swings in early counts; usually, he puts about half of his swings early in an at-bat into play.
There are other areas in which the difference between Kemp and Pujols is distinct.
• Kemp has been able to sneak the ball through holes, getting hits on 40 percent of his groundballs. Pujols is hitting right into infield shifts, with just three hits on 30 groundballs.
• Kemp is crushing breaking pitches (11-26, 2 HR, 5 RBI) and Pujols is making no impact against them (4-26, 0 XBH, 1 RBI).
Normally the right-handed Pujols would be crushing left-handed pitchers. Last year he hit nearly .300 and slugged over .600 against southpaws, but in April this year he is just 4-for-25 and has a slugging percentage of .240.
From 2001-11, Pujols entered the month of May with at least five home runs. So how many HR can be expected from Pujols the rest of the season?
According to Elias, seven players have finished with 40 home runs after not going deep once in April. The most was 54 by Babe Ruth in 1920. The most recent was Alex Rodriguez, who hit 42 HR in 1999.