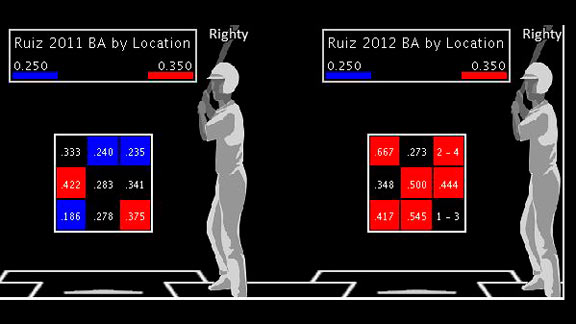 Carlos Ruiz is off to a great start in 2012, pounding everything thrown in the strike zone.When the Los Angeles Dodgers visit the Philadelphia Phillies on Monday Night Baseball (ESPN, 7 ET), it'll be a rematch of the 2008 and 2009 NLCS, both of which were Phillies wins.
It will also be a matchup featuring one of the three Cy Young Award winners on these two teams against an up-and-comer with a special skill.
But the most intriguing matchup this week will be the one between the two catchers who are playing like they're headed to the All-Star Game.

RuizRuiz vs Ellis
Phillies catcher Carlos Ruiz has a World Series ring and has caught a postseason no-hitter and a regular-season perfect game, but this season he's become a legitimate MVP candidate with his work at the plate.
His counterpart, Dodgers backstop A.J. Ellis, has nearly been Ruiz's equal, an on-base machine who stops a team's running game in its tracks.
Ruiz is not just the team MVP and one of baseball's best catchers, he's one of the best players in the majors.
He's in the top five in all of baseball in batting average (.371), on-base percentage (.420) and slugging percentage (.609).
After hitting six home runs and driving in 40 runs last season, he's already got eight homers -- one away from his career high -- and 32 RBI in a little more than a quarter of the at-bats.
Carlos Ruiz Past 2 Seasons
Ruiz has taken a more aggressive approach, which has paid dividends, as he's swinging more often and making more contact.
And he's improved an already impressive performance against fastballs, hitting .435, slugging .667 and missing fewer than five percent of his swings against the heater.
Ellis, who has already set a career-high for at-bats in a single season, is the only catcher in the bigs this season with a better on-base percentage than Ruiz. His mark of .430 is fourth-best in the majors.
Ellis, who brings a seven-game hitting streak into the series, is in the top four in hitting and slugging among catchers.
He's proving his worth behind the plate as well, throwing out 42 percent of attempted base-stealers, the second-best mark in the big leagues. Ruiz, at 37 percent, is fifth (minimum 25 SB attempts). And Ruiz is one of only three catchers with more Defensive Runs Saved than Ellis among those with at least 250 innings.

KershawThe Starters
Clayton Kershaw, who goes for the Dodgers, has lost two straight starts for the first time since September 1 and 7, 2010. He has never lost three straight starts in his career.
He's 0-4 with a 5.18 ERA in six career starts against the Phillies, his most starts and losses against any team without a win and his highest ERA against any team he's faced more than once.
Vance Worley goes for the Phillies, making his first start since coming off the DL. Despite missing four starts, he leads the major leagues in strikeouts looking, with 27.
Through May 11, the date of Worley's last start, Mike Minor was second with 20 strikeouts looking, the only other pitcher with more than 17. Since becoming a member of the starting rotation full-time last season (June 18), he leads the majors with 82 strikeouts looking, just ahead of David Price (77), Justin Verlander (77) and teammate Cliff Lee (75).
The Injury Effect
Both of these teams are familiar with the Disabled List. The Dodgers have used the DL 14 times (tied for third in MLB) and the Phillies have used it 12 times (fifth in MLB). Both teams have put 12 different players on the Disabled List, tied for fourth-most in baseball.