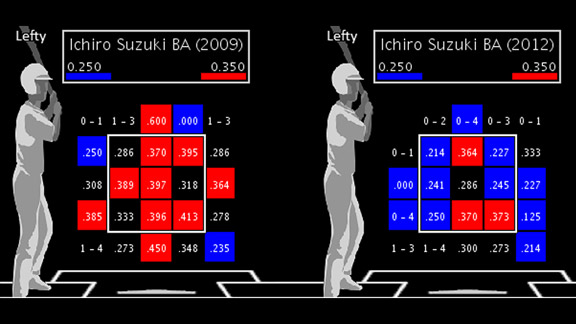 A look at Ichiro Suzuki's performance by pitch location in 2009 and this season.The Yankees made a significant move in the trade market, filling a hole in their outfield with the acquisition of Ichiro Suzuki from the Mariners.
Let's take a closer look at the deal and Ichiro's current statistical standing within the major leagues.
Ichiro's Offense
Ichiro is a .322 career hitter, third-best among active players, behind Albert Pujols (.326) and Joe Mauer (.324). But it has been a couple of years since he put up numbers of that nature.
Ichiro Suzuki
vs Pitches Out of Strike Zone
Ichiro entered the day with a .261 batting average and a .642 OPS. Both would be career-worsts if maintained to season's end.
The .642 OPS ranks second worst among the 35 AL outfielders who have at least 250 plate appearances. Coco Crisp, who beat the Yankees with a walk-off hit on Sunday, is the only player who ranks lower.
One of the things that has happened to Ichiro over the last few seasons is that his batting average against pitches out of the strike zone has declined by a significant amount.
The image atop this article shows his performance comparing when he was at his best (2009) to this season. The chart on the right shows his year-by-year decline.
Other components to his game
Ichiro entered Monday ranked second among major league rightfielders with 12 Defensive Runs Saved, a stat that combines his ability to turn batted balls into outs with the deterrent value of his throwing arm. The only player who ranks higher is Josh Reddick of the Oakland Athletics.
The Yankees defense ranks third-worst in the AL with -20 Defensive Runs Saved, better than only the Orioles (-26) and Tigers (-21). They have been without their top defender, leftfielder Brett Gardner, for nearly the entire season. Gardner ranked second among outfielders with 23 Runs Saved last season.
Ichiro also entered Monday with 15 stolen bases. That's more than anyone else on the Yankees, who entered the day ranked 11th in the AL with 50 steals. Alex Rodriguez is the top basestealer, with 11.
Mariners Statistical Legacy
Ichiro leaves the Mariners after 1,844 career games, second-most in team history. He is the franchise's all-time leader in batting average, hits, and stolen bases.
Ichiro Suzuki Mariners Ranks
Ichiro set the major-league single-season record for hits with the Mariners when he had 262 in 2004. His 10 seasons with at least 200 hits rank tied with Pete Rose for the most in major-league history.
Combining his major league and Japanese careers, he has 3,811 hits, 445 fewer than the all-time major-league hits leader, Rose, who had 4,256.
He finished his Mariners career with 54.4 Wins Above Replacement, third behind Ken Griffey Jr. (67.5) and Edgar Martinez (64.4).
Did You Know?
The Yankees have three players on their team with 2,500 or more hits-- Derek Jeter, Rodriguez, and Ichiro.
The Elias Sports Bureau notes that this is the third time in major-league history that a team had three players with 2,500 or more hits play for them in the same season.
The other two are the 1927 Philadelphia Athletics (Ty Cobb, Eddie Collins, Zack Wheat) and the 1928 Athletics (Cobb, Collins, and Tris Speaker).