Sarah Glenn/Getty Images
Hanley Ramirez has been traded to the Dodgers, a team that could use the offensive boost.
The Los Angeles Dodgers have acquired Hanley Ramirez from the Miami Marlins, and could move him back to shortstop with Dee Gordon on the Disabled List. Here's our analysis of the trade from both sides.
WHY ACQUIRE HIM?
The Dodgers could use the offensive upgrade -- Ramirez would be tied for the team lead in home runs (14) and would be second in runs batted in (48).
Dodgers 3B This Season
Dodgers SS This Season
Even in another disappointing season he'd be a huge upgrade over the production the Dodgers have gotten this season -- whether he plays third base or shortstop.
Los Angeles ranks near the bottom in all of baseball in offensive production at both spots on the left side of the infield. As a team they are last in the majors in home runs.
The Dodgers have had just one 20-home run season by a shortstop in franchise history -- Glenn Wright hit 22 home runs for the Brooklyn Dodgers in 1930.
There are just 15 10-homer seasons by a shortstop in franchise history and just FOUR since the team moved to Los Angeles in 1958.
Ramirez has four 20-home run seasons (on pace for his fifth this season) and seven 10-homer seasons in his seven full seasons.
WHY TRADE HIM?
From his first full season in 2006 through the 2009 season, Ramirez developed into a legitimate MVP candidate -- only four players in baseball had more Wins Above Replacement.
His .342 batting average in 2009 -- the best season of his career -- is the seventh-highest by a shortstop in the expansion era (since 1961). His 2007 season was also remarkably rare -- he hit 29 home runs and stole 51 bases. Only five other players have accomplished that feat in a single season since 1975.
Hanley Ramirez Wins Above Replacement Since 2008
Unfortunately, the decline was swift. Ramirez went from being among the best players in the game to barely replacement level in just two seasons.
He's become less productive as he's become more expensive -- from 2006-09 he made a total of $6.7M while amassing 22.4 WAR; from 2010 to the end of this season, he'll have made $33M while providing just 3.2 WAR (entering Wednesday).
Defense was never Ramirez's calling card, but he overcame that because of his MVP-caliber bat. Now that his offense has lagged, his defense has eaten away at too much of his value.
Only three players in baseball -- no matter the position -- have fewer Defensive Runs Saved since 2007.
The switch to third base hasn't helped either -- he ranks as the second-worst third baseman this season by Defensive Runs Saved and he's posted a negative value in that category in six of his seven seasons.
What has plagued him? Primarily his performance against breaking balls (curveballs and sliders) and his ability to handle hard stuff inside from right-handed pitchers.
His batting average and slugging percentage against breaking balls have both declined for three straight seasons. This year his .318 slugging percentage against curves and sliders is 101st out of 155 qualified hitters (entering Wednesday).
In 2009 and 2010 Ramirez crushed inside fastballs from righties, but in the last two seasons has had trouble getting around on those pitches.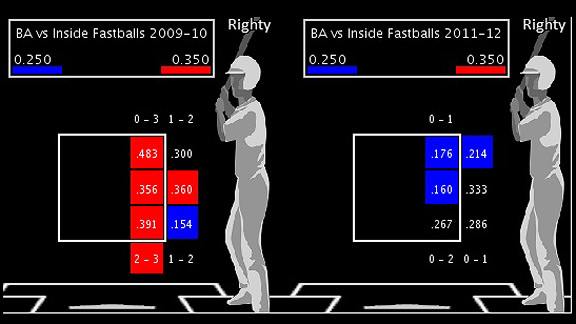 Hanley Ramirez against inside fastballs from right-handed pitchers since the start of 2009.