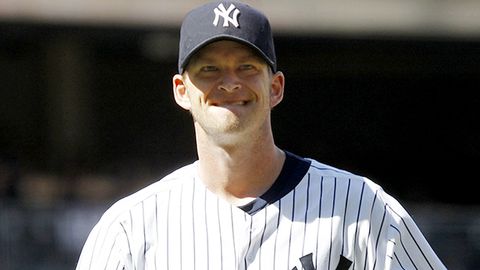 William Perlman/The Star-Ledger/US Presswire
It will either be a smile or a grimace for A.J. Burnett, whose starts in 2010 have been rather inconsistent
Yankees starter A.J. Burnett is having a strange season.
He is currently sporting his highest WHIP (1.49) since 2003, his lowest K/9 mark (6.9) since 2001, and his worst ERA ever. He has also allowed at least six earned runs in seven starts, which leads all major-league pitchers.
On the other hand, Burnett has seven starts of at least five innings without allowing an earned run – and that is the most of any American League pitcher and just behind the eight scoreless starts by Roy Halladay and Adam Wainwright.
Lowest ERA in Wins
2010 MLB Starters
Need more evidence of his Jekyll-and-Hyde season? He has the lowest ERA in his wins (0.74) of any MLB pitcher with at least five wins, and he has the highest ERA in his losses of any MLB pitcher with at least five losses!
All of these good starts and bad starts put together are creating quite an inconsistent season.
How inconsistent you may ask?
Using a statistical tool known as standard deviation, Burnett is the most inconsistent starting pitcher in the Major Leagues.
Highest ERA in Losses
2010 MLB Starters
Standard deviation is simply a measure of the total variation from the average of whatever statistic you are evaluating. In this case, we will look at the standard deviation of the chance each pitcher gives his team to win in a start (previously referenced at this link).
For Burnett, the standard deviation of the chance he gives his team to win in a start is .383. Not surprisingly, that number is the largest in the majors. This makes Burnett more inconsistent from start-to-start than any other pitcher in baseball.
He has eight starts this year where he has given the Yankees less than a 10 percent chance to win, and eight starts where he has given his team at least an 80 percent chance for victory. Amazingly, in every single one of his starts, he has given the Yankees at least a 69 percent chance of winning OR less than a 34 percent chance. Not one start in between.
To use golf terminology, birdies and bogeys have become par for the course with Burnett this season.