Ian Walton/Getty Images
Tim Howard will try to lead USA to a win in Mexico for the first time.For the first time since 1984, USA and Mexico will play a friendly on Mexican soil.
USA has never won a match in Mexico, holding an all-time record of 0-23-1. The Americans are 0-8-1 all-time at Estadio Azteca, while Mexico is 79-8-32 in that arena.
Mexico is riding high coming off its first ever Olympic men's soccer gold medal, but none of the Olympic players will compete in the friendly.
FIFA World Rankings Progression
Prior to the 2009 CONCACAF Gold Cup, the United States was in the top 15 in the FIFA World Rankings, while Mexico was only the 3rd-highest ranked team in CONCACAF and was 33rd overall.
Mexico beat the USA, 5-0, in the 2009 Gold Cup Final and has made its way into the top 20 (and at one point the top 10) in the FIFA rankings since then, while the USA has fallen to 36th in the current rankings.
The last time the two squads faced one another was in a friendly a little over one year ago, when the United States drew the Mexicans 1-1. In that match, the Americans were only able to muster two shots inside the penalty area, as seen by their shot chart below.
Wednesday's match can be seen at 7:30 ET on ESPN2.
USA ROSTER NOTES
• Roster by club country: USA 10, Mexico 6, Germany 3, England 2, Austria/Scotland 1.
• San Jose is the only club with three players on the roster (Beitashour, Gordon, Wondolowski).
• Four other clubs have two players on USA roster: Hoffenheim (Johnson & Williams), Real Salt Lake (Rimando & Beckerman), Sporting KC (Besler & Zusi), Tijuana (Castillo & Corona).
• Landon Donovan has 49 international goals; the rest of roster has 22. Seventeen of those 22 belong to DaMarcus Beasley, who last scored an international goal on October 11, 2008 (two goals in WC Qualifier vs Cuba). No other player has more than Herculez Gomez' four goals.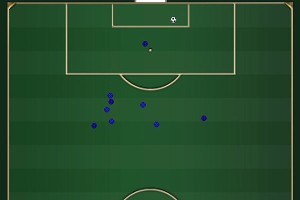 The USA attempted only two shots inside the penalty area during its last meeting with Mexico, including the lone goal by Robbie Rogers in the 73rd minute.
• Six USA defenders have total of 21 caps, none with more than six (Johnson & Castillo).
• DaMarcus Beasley has 96 career caps. If he plays, he'll pass Alexi Lalas into sole possession of 13th place on USA's all-time list.
• Tim Howard has 78 caps, three behind Brad Friedel for 3rd-most among keepers in USA history. He has 41 wins, 12 behind Kasey Keller for most in USA history. His 27 shutouts are third in USA history, five behind Tony Meola.
• Landon Donovan, Tim Howard and DaMarcus Beasley are the only three on the USA roster to have previously played Mexico at Azteca. Donovan and Howard played in World Cup Qualifying in 2009. Donovan and Beasley played in World Cup Qualifying in 2005.
MEXICO ROSTER NOTES
• No players on this roster were on the Olympic roster.
• Roster by club country: Mexico 13, Spain 2, England/France/Germany 1.
• Monterrey and Tigres have four players each, the only clubs with multiple players on the Mexico roster: Monterrey (Severo Meza, Jesus Zavala, Angel Reyna, Aldo do Nigris), Tigres (Hugo Ayala, Jorge Torres Nilo, Manuel Viniegra, Elias Hernandez, Andres Guardada).
• The Mexico roster has a total of 57 international goals; 25 of those are Chicharito's.
Contributions from Paul Carr, Antonio Rusinol, Albert Larcada and John Zoni