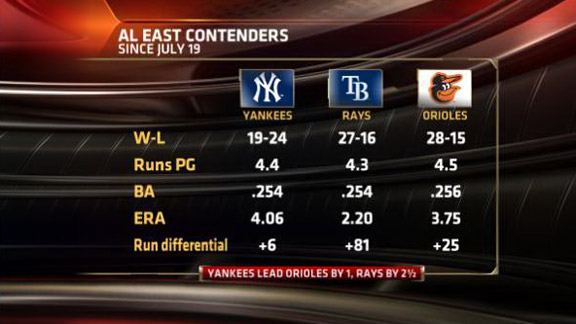 As the graphic atop this article shows, the AL East race has tightened up dramatically, with the New York Yankees lead being trimmed to one game over the Orioles and 2 ½ games over the Rays after Monday afternoon's contests.
Let's take a closer look at a key for each team over the past few weeks.
Rays rolling
Rays starter James Shields gave Tampa Bay another solid performance, allowing three runs in eight innings in their win over the Yankees.
Shields is in the midst of a nine-start run, the results of which can be seen in the chart on the right.
James Shields
2012 Season
Shields had gotten away from throwing his fastball often early in the season, but has upped the rate by which he's thrown it over his last nine starts by nearly 50 percent.
Shields has also gotten better defensive support recently, something that the Rays had trouble providing earlier this season.
In his last seven starts, opponents have hit 63 ground balls against him. The Rays have gotten at least one out on 56 of them (89 percent), well above the major-league average rate of 75 percent.
Orioles surging
After a hiccup in Saturday's loss to the Yankees, the Orioles bullpen, which has been immensely valuable, got back on track the last two days.
Baltimore's relievers have allowed one run in 8 2/3 innings in wins over the Yankees and Toronto Blue Jays.
That dropped the Orioles bullpen ERA to 3.02 this season. Jim Johnson and Pedro Strop have been especially good at protecting leads, as they did with a scoreless inning apiece on Monday.
Orioles Offense
2012 Season
The other key to the second half for the Orioles has been Nick Markakis, who continued a stellar second half with an RBI double in Monday's win.
There has been a lot of attention on how much better the Rays offense has been since Evan Longoria returned, but check out the improvement of the Orioles' hitters since Markakis returned from injury at the All-Star Break.
He's led that with a .343 batting average and .902 OPS, which rank seventh-best and 14th-best among AL hitters since the All-Star Break.
Yankees struggling
The Yankees are 19-24 since July 19. They've lost nine of their their last 13 games, matching their worst 13-game stretch of the season.
Who has been slumping on offense since July 19?
Curtis Granderson, who struck out to end Monday's game, has seen his OPS drop 200 points (it was .868, but is .668 since), Raul Ibanez's OPS has slipped 101 points, and Andruw Jones' has plummeted from .851 to .428.
Robinson Cano, who suffered an injury late in Monday's game, also has gone through a couple of slumps. His most recent is a 4-for-25 drought.
The Yankees did not homer on Monday, making them 4-20 when not homering this season. Those four wins are the fewest for any team in the majors in homerless games.
The other issue for the Yankees is that since August 1, their only reliable relievers have been David Robertson and Rafael Soriano. The two of them have a 2.31 ERA and 0.92 WHIP in that span. The other Yankees relievers have a 5.18 ERA and 1.66 WHIP.
Robertson is not as near-perfect as he was last season. His Batting Average on Balls in Play has jumped from .291 to .315, as a few extra hits have snuck through, including Thursday's game-winner.
What's left
AL East Contenders
Remaining Games
The graphic on the right shows the remaining schedules for each of the three teams. The Rays have the toughest schedule remaining, but have the best balance of home and road games.
The Elias Sports Bureau notes that the Yankees have never blown a division/league lead of more than 6 games. The largest blown lead was six games in 1933.
Justin Havens, Katie Sharp, and Mark Simon contributed research to this article