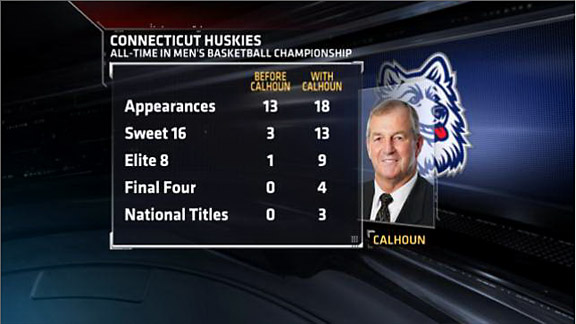 University of Connecticut men's basketball coach Jim Calhoun is expected to announce his retirement at a news conference Thursday.
Calhoun leaves the sport as one of its most prolific winners. Let's take a closer look at his coaching history.
The final tally
Calhoun finishes with a career record of 873-380 over 40 seasons of coaching at the NCAA level (26 seasons at Connecticut, 14 seasons at Northeastern).
His 873 career wins rank sixth-most in Division I, and Calhoun ranks second all-time in games coached, trailing only Bob Knight.
Since the 1989-90 season, Connecticut has 580 wins, fifth-most in Division I, trailing only Kansas (668), Duke (657), Kentucky (624) and North Carolina (602).
NCAA prominence
Calhoun is one of five coaches to win three Division I men's basketball national championships. The others are John Wooden (10), Mike Krzyzewski (4), Adolph Rupp (4) and Knight (3).
Calhoun's 49 NCAA men's basketball championship tournament wins rank fourth, behind Krzyzewski (79), Dean Smith (65) and Roy Williams (61), although he'll likely soon be surpassed by Jim Boeheim, who has 48.
Oldest Coaches to Win Div I Title
Men's Basketball Championship History
The Huskies' 46 men's basketball championship wins are 14 more than any other Big East team.
The cap on Calhoun's career was the 2010-11 season, when the Huskies, who were unranked in the preseason top 25, won the national title.
That made the then-68-year-old Calhoun the oldest coach to win a Division I men's basketball title.
Those Huskies were one of three teams in the past 15 seasons to win a national title despite being unranked in the preseason, along with Syracuse in 2003 and Florida in 2006.
Big East legacy
In terms of Big East history, Calhoun ranks among the most statistically prominent coaches. He ranks second in Big East history with 311 wins, trailing only Boeheim's 402.
Calhoun was the first coach to be named Big East coach of the year four times.
Big shoes to fill
Calhoun's assistant and former Huskies standout Kevin Ollie likely will be named Calhoun's successor.
It won't be easy matching what Calhoun brought. Last season, he missed 11 games and the team's play suffered.
The Huskies went 15-8 with Calhoun on the bench and allowed only 62.4 points per game. They were 5-6 in the 11 games he missed and yielded almost 69 points per game.
The difference was in transition defense, with the Huskies allowing four more points per game in transition (12.7) than with him (8.7).