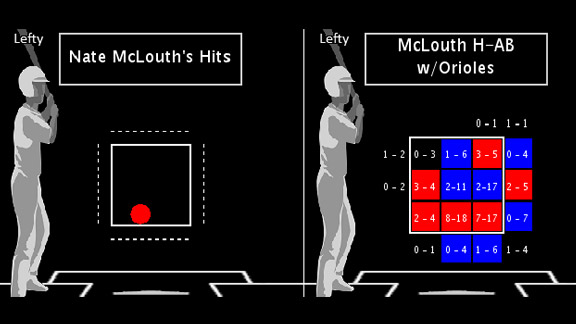 Nate McLouth got a pitch in a good spot for his walk-off winner.
This seems to be the week of "Who would have thought he'd be the star?" as baseball's pennant pushes move into the home stretch.
In each of the last three days, there have been some unlikely difference makers on contending teams. Pitchers like Philadelphia Phillies starter Kyle Kendrick and Oakland Athletics closer-for-a-day Jerry Blevins have made significant impacts.
On Wednesday, it was a day for a hitter.
Orioles outfielder Nate McLouth was the night's unlikely star. He continued a run of fine play since the Orioles picked him up not long ago. McLouth got the second walk-off hit of his career in the win over the Rays.
The game-ending hit came on a pitch right to the hottest of McLouth's hot zones-- knee-high over the middle of the plate. He's found his hitting stroke on pitches down in the strike zone.
Earlier this season, when McLouth was struggling, he was 3-for-15 against pitches in the lower-third of the strike zone, putting 45 percent of his swings against those lower-third strikes into play.
But with the Orioles, McLouth is has three hot spots (as noted in the heat map above) on those pitches—and instead of fouling them off, he's making good contact. Sixty percent of his swings have been put into play.
McLouth got the winning hit on a slider-- his third hit against a breaking pitch in his last two games. In his season-opening stint with the Pittsburgh Pirates, McLouth managed just one hit off a breaking ball among the 50 he saw.
Who would have thought it?
Other Players this week

Monday: Phillies starter Kyle Kendrick beats the Marlins, with his pitch of choice being a changeup that netted seven strikeouts and 13 outs overall.
After going 4-9 with a 4.86 ERA in his first 27 outings of the season, Kendrick is 5-1 with a 1.49 ERA in his last six starts.

Blevins
Tuesday: Athletics reliever Jerry Blevins came out of the bullpen to escape a first-and-third-no-out jam to protect a one-run ninth inning lead against the Los Angeles Angels of Anaheim.
Blevins got a strikeout and a ground-ball double play to end the game. It earned him his second save in 205 career major league appearances, his first since the 2010 season.

Wednesday: In addition to McLouth, utility infielder Marco Scutaro had two RBI for the San Francisco Giants in a win over the Rockies, giving him 30 RBI in 179 at-bats with his new team. Scutaro had the same 30-RBI total with the Rockies earlier this season, but did so in 377 at-bats.
Who would have thought when Scutaro played his first game with the Giants on July 28 that his RBI total from then to Sept. 13 would match Hunter Pence and be one better than Buster Posey?