Today's Trivia: Today is Rollie Fingers' birthday, which means they're probably celebrating in both Oakland and Milwaukee. After all, both the A's and Brewers have retired Fingers No. 34 jersey. Fingers is one of just nine players in history to have his jersey retired by more than one team.
So your question is – which two other players have a jersey No. 34 retired in MLB? Hint: one of the two, like Fingers, is part of the nine-member club that has had a jersey retired by multiple teams.
Quick Hits:
Move to the edge of your seat tonight when Hiroki Kuroda comes to the plate. Kuroda has managed to go 0-40 at bat this season and is on the verge of history. Only eight previous players since 1901 have had an 0-fer season with at least 40 at-bats. Can we get Kuroda out of his "slump" by delving deeper into his numbers?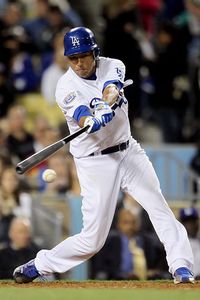 Jeff Gross/Getty Images
Hiroki Kuroda's hitting woes this season are reaching historic proportions
• Of his 40 at-bats, 18 have ended in strikeouts. Those K's have come at inopportune times, too – his only two plate appearances with the bases loaded? They ended in strikeouts. His 14 at-bats with the game tied? Six ended in strikeouts.
• Two pitchers in particular have especially feasted off Kuroda's meekness. Aaron Harang has faced him five times and Edwin Jackson has faced him four times. Kuroda, obviously, has gone o-fer against both.
• If you believe in OPS+ (which is OPS adjusted for league and ballpark), you probably don't believe in Kuroda. His OPS+ checks in at -85, almost as impressive as it is awful. Among anyone who has batted more than 20 times this season, that's the worst. But have no fear Kuroda – the wunderkind is close behind. Stephen Strasburg's OPS+ is a not-much-better -73.
• But it's not ALL bad for Kuroda – twice, he's drawn a walk! That gives him a whopping .048 on-base percentage. In fact, on one of those occasions, he even scored a run. It came against Bud Norris and the Astros, when Manny Ramirez drove Kuroda in. It's the only time Kuroda has touched home plate this season.
• Maybe place discipline is what's killing Kuroda. Only eight times this season has he reached a three-ball count. Only seven times has he seen a 2-0 count.
• So how many chances does he have left? Well, figure he'll make about seven more starts this season, including tonight. He's averaging 2.08 PA per start. So bank on Kuroda getting about 14 or 15 trips to the plate the rest of the year. Talk about drama. Only two players have gone 0-50 or worse in a season: Bill Wight in 1950 and Bob Buhl in 1962.
Today's Leaderboard:
It's always fascinating when a batter gets the green light (or sometimes gives himself the green light) to break one of the unwritten rules of baseball and swing on a 3-0 count. But so far this season, batters have swung on a 3-0 count 6.1 percent of the time. In fact, Adam Dunn and Jose Bautista each have two home runs this season on 3-0 counts. So maybe the rule isn't that ironclad.
With a nod to a batter's decision as the count move along, let's look at the times where batters are MOST likely to take the bat off their shoulder, and in which count they're most likely to get a hit.
Highest Swing Percentage This Season
Key Matchups:
• Lock J.D. Drew up for treason – he shows no respect for the King. King Felix that is, who has faced Drew 23 times and allowed Drew to dishonor him for a .400 BA and 1.028 OPS. Among the 47 batters who Felix Hernandez has faced as often as Drew, Drew's OPS ranks third. In their most recent showdown, July of last year, Drew homered off Hernandez.
• If the Rangers are thinking ahead, they'll take as many pitches as they can from Brian Duensing to scout his stuff. Duensing is a potential playoff opponent, and only four Rangers batters have ever hit against him. Elvis Andrus, Josh Hamilton, David Murphy and Michael Young are a combined 3-16 (.188 BA) against him.
• Carlos Lee hasn't seen a ton of Roy Halladay, but when he has, he's hit him. Lee has three homers off of Halladay is just 23 at-bats. Among all the other batters who have faced Halladay, only Luke Scott and Justin Morneau have as many homers in as few at-bats. Lee has a career .639 slugging percentage against Halladay, but that might be on its way down – in their previous meeting this season, Lee went 0-4 with two strikeouts against Halladay.
• Speaking of Halladay, he has a chance to win the pitching triple crown this season (ERA, Wins, Strikeouts).

Although it's slightly more commonly done than the batting triple crown (30 pitching triple crowns vs 13 hitting triple crowns since 1900), it's still a remarkable accomplishment. Entering Wednesday, Halladay led the NL in ERA and strikeouts, and was only one behind Adam Wainwright and Ubaldo Jimenez in wins.
Jake Peavy last won the pitching triple crown in 2007 and it has been won three times in the last eight seasons, but in the National League, it's only been won four times since Sandy Koufax won three in a four-year span (1963, 65, 66).
NL Pitching Triple Crown Winners
Last 40 Seasons
If the remarkable happens and we get a pitching and hitting triple crown in the same season, then we start talking some real baseball history. A pitching and hitting triple crown hasn't been won in the same season since 1966, when Frank Robinson and Sandy Koufax won them. Both of those players now have plaques in Cooperstown.
If Pujols/Votto and Halladay win their respective triple crowns in the National League, they'd be the first National Leaguers to win their respective triple crowns in the same season since 1894. It's happened twice before in the American League -- in 1901 (Nap Lajoie and Cy Young), and 1934 (Lou Gehrig and Lefty Gomez)
Trivia Answer: Kirby Puckett has his No. 34 retired by the Twins, and Nolan Ryan has his No. 34 retired by BOTH the Rangers and Astros. Ryan also has his No. 30 jersey retired by the Angels.
Just for fun – Puckett went 1-4 against Fingers in his career, managing a single in his first-ever at-bat against Fingers.