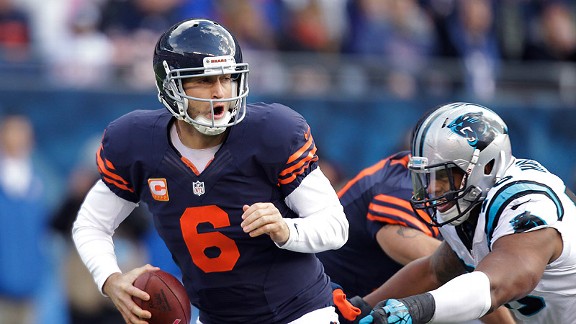 AP Photo/Michael Conroy
Peyton Manning has improved his deep passing in his last four games.
The two things that have been integral to the Chicago Bears success this season- defensive scoring and Jay Cutler's fourth-quarter success- came through one more time in a win over the Carolina Panthers.
The Panthers were true to form as well, succumbing in a close game yet again. It's something they've done often recently.
Let's recap the key notes and numbers from a dramatic victory.
An unusual kind of win
This was the third time the Panthers have ever lost a game in which they led by 10 or more entering the 4th quarter (entered 57-2 all-time in such games)
The Bears have won twice in the last 30 games in which they trailed by at least 10 points entering the fourth quarter.
They snapped a 16-game losing streak in such games, winning for the first time since Week 6 in 2006 when they rallied to defeat the Arizona Cardinals, 24-23.
The Bears are now 4-0 all-time at home against the Panthers.
The Panthers are 1-10 over the last two seasons in games decided by seven points or less.
Cutler slices up Panthers in fourth
The Panthers went conservative in their pass rush in the fourth quarter and Cutler made them pay the price.
Cutler vs. 4 or Fewer Pass Rushers
Sunday vs Panthers
Cutler went 12-for-14 for 106 yards and a touchdown in the final 15 minutes, all of which was done against four or fewer pass rushers.
As the chart on the right shows, that pass rush worked very effectively against Cutler in the first three quarters of the game.
But Cutler was great in the fourth quarter once again, posting a 92.4 Total QBR. He entered the day with an NFL-best 94.2 Total QBR in the fourth quarter.
Six Pick-Sixes!
The interception return for a touchdown by Tim Jennings was the Bears sixth interception returned for a touchdown this season, the most-ever by a team in its first seven games of a season.
Most Int Return TD in a Season
NFL History
The six touchdowns are a Bears single-season record and only three shy of the record set by the 1961 Chargers.
Both of the Cam Newton's interceptions were thrown against the Bears' four-man pass rush.
The Bears entered the game limiting opposing QBs to a 26.0 Total QBR sending such pressure, including 11 interceptions, both of which ranked best in the NFL.
Good as Gould
Robbie Gould's game-winning field goal was the 200th of his NFL career. Gould ranks second in Bears history in field goals made, trailing only Kevin Butler's 243.
Gould's 200 field goals since entering the league in 2005 are the third-most in the NFL in that span. Only David Akers (212) and Rob Bironas (201) have more.