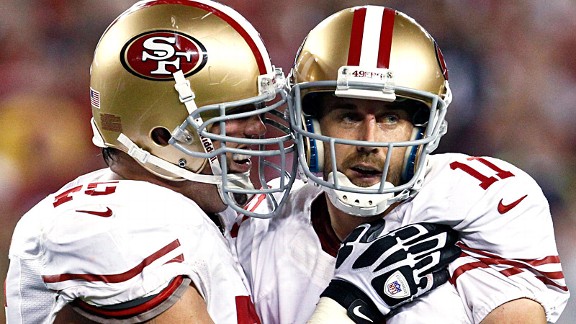 Ross Franklin/AP Photo
Alex Smith (right) had one of the best days by a quarterback in NFL history.
Some of the success that the San Francisco Giants pitchers had in helping their team to a World Series title rubbed off on their football counterpart.
San Francisco 49ers quarterback Alex Smith had the best day of his career, one that was Joe Montana and Steve Young-like in terms of statistical accomplishments.
For much of the night, it looked like Smith was playing a game of catch with his receiving teammates. Giants pitchers had what baseball folks call "swing-and-miss" stuff. Smith had can't-miss stuff.
Let's look some of the highlights of the 49ers easy win over the Arizona Cardinals.
Just shy of perfection
Smith was 18-for-19 on his pass attempts, setting a mark for passes thrown in a game with no more than one incompletion. The Elias Sports Bureau tells us that the previous mark of 18 was set by Fran Tarkenton in 1977 and matched by Craig Morton in 1981.
Highest Completion Pct in Game
NFL History (min. 15 attempts)
Montana's most accurate day, with at least that many pass attempts, was an 84.4 percent success rate, when he went 27-for-32 against the Falcons in 1983.
Montana's fewest incompletions in a game with as many attempts as Smith was three. He went 16-for-19 against the Falcons in 1989.
Young's best was two incompletions, in an 18-for-20 game against the Detroit Lions in 1991. He also had a 15-for-16 game in 1994, as noted in the chart above.
What was the key to Smith's performance?
Smith was 7-for-8 for 113 yards when the Cardinals sent at least five pass rushers, the only incompletion being a drop by Delanie Walker.
His level of success against that kind of pressure isn't that surprising. Smith entered the day with the fourth-best Total QBR in the NFL against pass rushes of five or more defenders.
Milestone for Moss
49ers receiver Randy Moss looked like his old self on a 47-yard touchdown reception in the third quarter. It was Moss' 156th career touchdown, tying Terrell Owens for fourth-most all-time.
Most TD Receptions
Monday Night Football History
Moss has 18 touchdowns in 19 appearances on Monday Night Football, with five of them going for at least 40 yards.
His 18 receiving touchdowns are third-most all-time, trailing Jerry Rice's 34 and Terrell Owens' 20.
Moss has 45 touchdown receptions that gained at least 40 yards, easily the most by anyone currently playing in the NFL. Santana Moss ranks second with 20.
The defense had a good game too
The 49ers defense held the Cardinals to three points. It marked the fourth time in the last five games that the 49ers allowed six points or fewer. San Francisco's four such games are the most for all NFL team since the 49ers themselves had five in 2009.