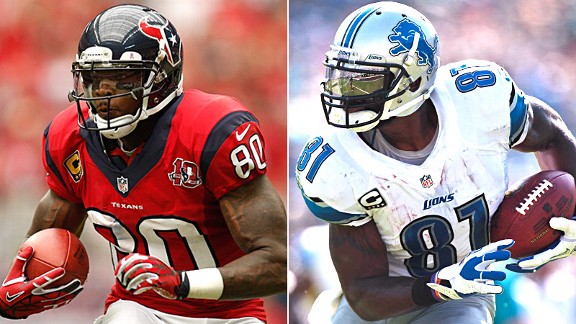 U.S. Presswire
Andre Johnson and Calvin Johnson each offer skills that make them potent in every game they play.Each week, Stats & Information has a point-counterpoint discussion on an NFL topic of note. This week, two of our stat analysts weigh in on a pair of wide receivers going head-to-head in a Thanksgiving matchup.
Andre Johnson is better
When healthy, Andre Johnson is arguably the most productive receiver in the league.
In fact, since Calvin Johnson's career began in 2007, it is Andre Johnson leading the league with 92.6 receiving yards per game, 10 more than the next-closest player.
Most Receiving Yards Per Game
Last 6 Seasons
Andre Johnson may have been having a quiet season, but he burst back onto the scene Sunday with a career-high 273 yards.
That is the most receiving yards by a player since Terrell Owens had 283 for the 49ers vs the Bears in Week 16 2000.
Johnson now has 10,526 receiving yards in his career, and he has the fewest games played (132) out of any player (there have been 38) to reach the 10,000 receiving yards milestone in their career.
Though Andre may not stretch the field anymore like Calvin does, he has made up for it in the quick passing game. Sunday was a prime example as he took a throw behind the line of scrimmage for a 48-yard game-winning touchdown.
He has hauled in 85 percent his targets on throws ten yards or fewer this season (fourth-best in the league) for a league-best 26 first downs.
Calvin Johnson has caught nine fewer passes on throws of such distance this season, despite having one more target.
- Doug Clawson
Calvin Johnson is better
Calvin Johnson makes big plays downfield at a higher rate than almost any receiver in the league. Over the last two seasons Calvin Johnson has more receptions on throws at least 15 yards downfield (56) than Andre Johnson has total targets (45).
Calvin Johnson is arguably the best deep threat in the league, despite his decreased touchdown production this season.
Johnson leads the NFL in targets (45), receptions (26) and receiving yards (693) on throws 15 or more yards downfield.
Receiving 15+ Yards Downfield
Last 2 Seasons
Andre Johnson does not have the same impact on such passes, with only nine receptions on throws 15 or more yards this season.
Calvin Johnson is also targeted on a greater overall length than Andre Johnson. Calvin's average target is 14.0 yards downfield, the eighth-highest rate among qualified receivers, compared to 12.1 yards downfield for Andre (29th).
Each player has three touchdowns this season but Calvin Johnson is still on pace to lead the league in receiving yards for the second straight year.
His 1,117 receiving yards rank first in the NFL and he has 105 targets, the third-most in the league.
Calvin Johnson's 20 receptions of 30 or more yards are tied for the most in the league over the last two seasons. Andre Johnson has half as many receptions of at least 30 yards during that span.
Overall Calvin Johnson's big play threat and target frequency make him the choice over Andre Johnson.
- Evan Kaplan