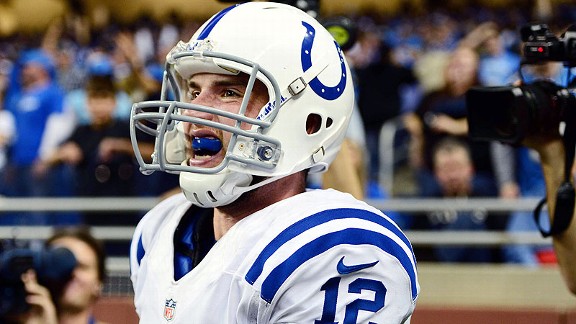 Andrew Weber/US Presswire
Andrew Luck came up big when it was most needed.
Indianapolis Colts quarterback Andrew Luck continued to build on what has been a terrific season in Sunday's dramatic win over the Detroit Lions.
It was one that gave him eight wins and made him the winningest No. 1 drafted quarterback since the NFL and AFL went to a common draft in 1967.
Some notes on Luck's game:
Elias Stats of the Day
Luck is the fourth rookie since 1970 to throw a game-winning touchdown pass with no time left in game. The other three quarterbacks to do that are Tim Couch (1999 Browns), Matthew Stafford (2009 Lions) and Russell Wilson (2012 Seattle Seahawks). Wilson's came in the controversial win over the Green Bay Packers.
Most GW Drives in 4th Qtr/OT
Rookies Since 1970 Merger
In other words, there were as many of those this season as there were in the previous 42 seasons combined.
Additionally, Wilson threw a game-winning touchdown pass in overtime today. This marks the first day in NFL history in which two rookies threw game-winning touchdowns in the final minute of regulation or overtime.
The win was Luck's eighth as a starter this season. That's the most wins by a rookie starting quarterback drafted No. 1 overall in the Common Draft Era (which began in 1967). The previous mark of seven was set by Sam Bradford with the 2010 St. Louis Rams.
How Luck won
After going 17-for-38 on the Colts first 14 possessions, Luck was sharper on the last two, completing 7-of-14 throws (not including two stop-the-clock spikes). He also had three scrambles for 33 yards after not having any on the Colts first 14 drives of the game.
Luck finished with four touchdown throws, matching the total number of touchdown passes he had in his first five road games combined.
Luck entered the day with the third-best Total QBR of any NFL quarterback. That number will take a hit with his season-low 31.4 Total QBR on Sunday. But he continued to succeed in one aspect that's helped make him among the NFL's best.
What's made Luck so good this season is that he's ranked among the best quarterbacks in the league when under duress, according to our video review.
A quarterback is considered to be under duress when he meets any of the following criteria:
1-Throws or scrambles when forced out of the pocket.
2- A defender has a clear path in the quarterback's line of sight.
3- The quarterback has to alter his throwing motion or is forced to move in the pocket due to pressure.
Luck ranked third in the NFL in Total QBR entering Sunday when under duress, trailing only Aaron Rodgers and Ben Roethlisberger.
Sunday, performance under such pressure played a significant role in the victory.
Luck was 5-for-9 for 80 yards and two touchdown throws when under duress, along with two scrambles for 22 yards. That included his first-quarter touchdown throw to Donnie Avery and the fourth-quarter long touchdown pass to Lavon Brazill.
Luck has a 13.2 Total QBR through the first three quarters, but posted a 75.1 in the game's final 15 minutes.
Room for Improvement
It took Luck only 12 starts to win eight games as an NFL quarterback. It took the Colts previous regular starter, Peyton Manning, 23 starts to earn his eighth win.
Most Passing Yards by Rookie
Single Season (NFL History)
That said, there is still room for Luck to grow.
He finished 24-for-54, a 44.4 percent completion rate. The last quarterback with that low a completion percentage and that many pass attempts was Drew Bledsoe in 1995.
Luck's completion percentage was the lowest for any quarterback that threw at least four touchdown passes and had at least 30 attempts in a game since the merger.