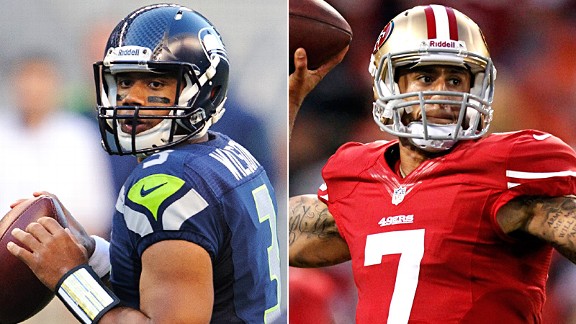 USA TODAY Sports
You could make a good argument for Russell Wilson or Colin Kaepernick as their division's best QB.
Each week, Stats & Information has a point-counterpoint discussion on a notable NFL topic. This week, two of our stat analysts weigh in on which quarterback is the best in the NFC West heading into the San Francisco 49ers-Seattle Seahawks matchup on Sunday night.
Russell Wilson is the best quarterback in the NFC West
Seattle Seahawks quarterback Russell Wilson has blossomed into the type of quarterback that ANY team in the NFC West should want calling signals for them.
It has been a steady progression for Wilson. He has gone from game manager with flashes of brilliance in his first eight games to playing at an elite level in his last six, which the Seahawks are 5-1.
Russell Wilson Passing This Season
Wilson's Total QBR since the start of Week 9 is a league-high 86.0.
Wilson's Points Above Average (PAA) illustrates his rise in status. Points Above Average measures the number of points contributed by a quarterback over the season above the level of what an average quarterback would have done in the same situations.
Wilson's QB PAA through the first eight weeks was just 2.7 (19th in the NFL) in 297 action plays. Since the start of Week 9 it's 29.9 (219 action plays), second only to Peyton Manning.
Wilson's QB PAA is boosted by his ability to make plays -- both passing and running the ball. Wilson has rushed for 274 yards in the last six games, including 92 yards and three rushing touchdowns in Week 15 against the Buffalo Bills.
Wilson has gained 156 of his rushing yards on scrambles, and his QB PAA on such plays is 9.0, which trails only fellow rookie Andrew Luck.
-- Jason York
Colin Kaepernick is the best quarterback in the NFC West
Colin Kaepernick has led the 49ers to a 4-1 record since he took over as the starting quarterback in Week 11, in large part due to his consistency.
During that span, he is the only quarterback with a Total QBR of 60 or more in each game. On the season, Kaepernick's Total QBR is 79.5, second-highest among qualified quarterbacks behind Peyton Manning (81.5).
Kaepernick has made big plays for the 49ers with his passing and ability to run the ball. He averages 8.4 yards per pass attempt and completes a pass for 30 or more yards every 17.1 attempts. Both numbers are best among quarterbacks with at least 50 attempts.
Despite starting only five games, Kaepernick has five rushing touchdowns (tied for third-most among quarterbacks) and three rushes of at least 20 yards (fourth-most among quarterbacks).
Kaepernick has been at his best when the game is on the line. He leads all qualified quarterbacks with a fourth quarter Total QBR of 95.8, well ahead of Russell Wilson's 63.2. When the score is within three points, Kaepernick leads the league with a 74.5 completion percentage and 10.5 yards per attempt (minimum 50 attempts).
-- Bobby Greenhalgh