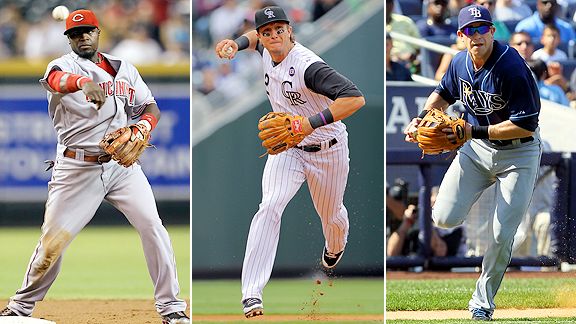 Getty Images
Brandon Phillips, Troy Tulowitzki and Evan Longoria have not only made differences in the pennant race, they're atop the major league leaders in Web Gems.
It's September and there's a pennant race of a different nature taking place on a baseball field near you.
That would be the battle among individual players for the Web Gem pennants, like the one that Mariners shortstop Jack Wilson had hanging in his locker earlier this season after winning top honors among shortstops for 2009.
This year, there are three players who rate head-and-shoulders above the rest when it comes to our Web Gem scoring system, and each of them is involved in the real pennant race as well -- Cincinnati Reds second baseman Brandon Phillips, Colorado Rockies shortstop Troy Tulowitzki, and Tampa Bay Rays third baseman Evan Longoria.
For those unfamiliar, fans can vote for each night's best gem on the Baseball Tonight Clubhouse page on ESPN.com. Scoring is tabulated based on the voting finish from each day. A player and his team receive five points for a No. 1 voted Gem, four points for a No. 2, all the way down to one point for the No. 5 rated Gem. The results have been tabulated all season on the Web Gem Scoreboard.
At the end of the season, Baseball Tonight crowns individual position champions and an overall champ. Last year's overall champ, Washington Nationals third baseman Ryan Zimmerman, has not been able to duplicate his run to the title and will likely be passing the crown on to another honoree.
This year, in addition to its Web Gem tabulations, ESPN Stats and Info has access to defensive analysis provided by Baseball Info Solutions, a company that has authored two books on the subject, both titled The Fielding Bible.
MLB Defensive Leaders
2010 Season
That company has a group of "video scouts," trained observers who track "scouting data," compiling performance in terms of Good Fielding Plays (GFPs).
A GFP is essentially what we'd think of in Baseball Tonight terms as a "Web Gem Nominee." It's one in which a fielder turns a would-be hit into an out, turns a double play quickly, robs a hitter of a home run, or makes some other sort of positive defensive contribution, above and beyond what would be expected from someone at his position.
Those numbers have also been tabulated all season, and it's interesting to compare the top-rated players in terms of Web Gems and GFPs.
There are only two positions at which baseball fans and the folks at Baseball Info Solutions agree: With Phillips at second base, and Carl Crawford in left field.
If you're not satisfied with the current pennant races, good battles abound for both Web Gem and GFP supremacy, such as:
• Center Field, where Franklin Gutierrez snatched the Web Gem lead Thursday with a No. 1 Gem for his third home run robbery of the season (he and Ichiro Suzuki have the most in the majors). He's one point ahead of Dexter Fowler and two points ahead of Marlon Byrd. Byrd, for his part, is dead even in Good Fielding Plays among centerfielders with Andrew McCutchen of the Pirates.
• First Base, with Mark Teixeira and his three No. 1 Web Gems leading Albert Pujols. In GFP scoring, it's Pujols who has a slight lead on Daric Barton of the Athletics. Teixeira is fourth by their scoring, trailing Joey Votto as well.
• Pitcher, where Mark Buehrle set the standard for Web Gem excellence on Opening Day. He's the only pitcher in baseball with a No. 1 Web Gem and a No. 2 Gem, giving him a lead at that spot. Trevor Cahill of the Athletics not only is a viable Cy Young contender, but he leads Livan Hernandez and Bronson Arroyo for the GFP lead, with eight overall.
The battles for the overall championship both could extend into the final days of the season. Phillips has the overall Web Gem points lead, on the strength of a dozen total gems, but Tulowitzki is just one point behind, and Longoria is two back. The Good Fielding Play title may go to the best player in baseball, Albert Pujols, who is currently clinging to a slight edge on Mets third baseman, David Wright. Much like the real pennant races, it's something that bears watching these last few weeks.