Peyton Manning excelled at home this season, posting a league-best +19 TD-Int differential. Joe Flacco, meanwhile, struggled on the road in 2012, completing just 29.6% of his passes of at least 15 air yards on the road, the fourth-lowest percentage in the league.
A closer look at both quarterbacks:
Why Manning dominates at home
Manning has been more efficient at home this season. Success rate measures the percentage of plays on which a quarterback receives positive credit based on improving his team's chances of scoring. Manning boasts a 56.2% success rate at home this season, the highest of any quarterback in the league.
Denver rushers averaged 4.1 yards per carry at Mile High this season but averaged only 3.4 on the road. In addition, Manning has been much more effective with play action at home, posting a league-high 96.8 QBR with seven touchdowns and only one interception.
Manning also had a +8 TD-Int differential at home on throws deeper than 10 yards downfield, tied with Russell Wilson for best in the league. On the road, however, Manning had a minus-1 differential, tied for 20th best.
Why Flacco struggles on the road

Flacco overthrew his intended receiver on 46.3% of his attempts at least 15 yards downfield on the road, the worst percentage in the league. At home, Flacco overthrew his receiver on 26.7% of his attempts.
Flacco had a 38.6 success rate on the road in the regular season, worse than Mark Sanchez (39.1), Nick Foles (40.0) and Matt Cassel (42.8). At home, Flacco had a 47.5 success rate, better than Matt Ryan (47.0), Andrew Luck (46.8) and Drew Brees (46.2).
A further look into how successful Manning was at home this season, compared to how unsuccessful Flacco was on the road using Total QBR:
---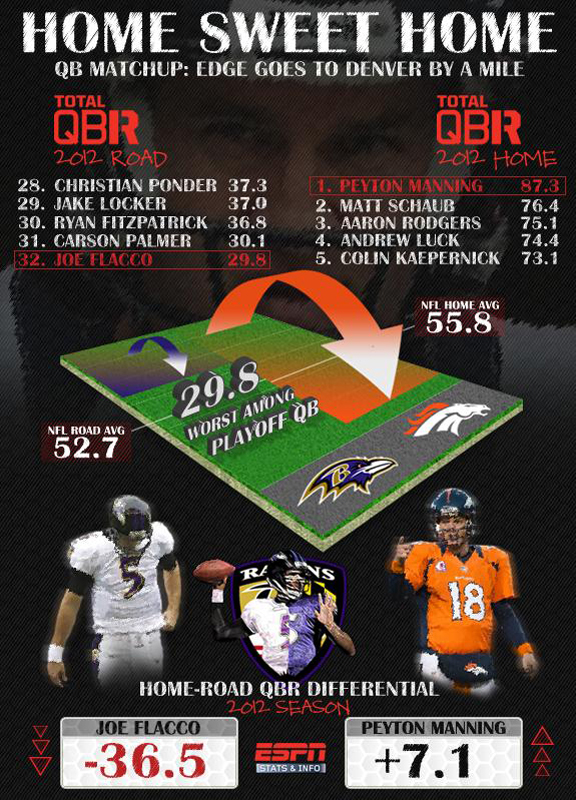 ESPN Stats & Information