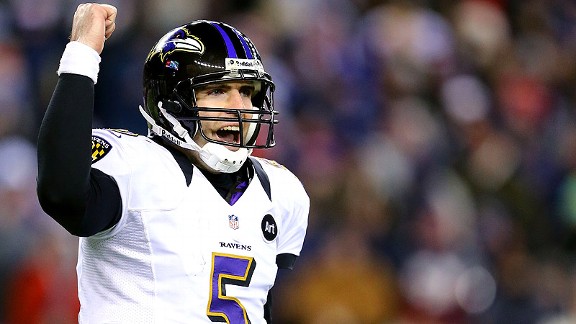 Al Bello/Getty Images
Joe Flacco has thrown eight touchdowns and no interceptions this postseason.
First Jim Harbaugh, now John Harbaugh.
The Baltimore Ravens handed the New England Patriots their first home loss in a conference championship game (4-1). And with the 49ers winning earlier in Atlanta, this marks the first time since 1997 (Broncos and Packers) that both road teams won in the conference championship round.
More impressive is the fact that was the first time in 68 regular season and postseason home starts that Tom Brady and the Patriots lost when leading at halftime (New England led 13-7), according to the Elias Sports Bureau.
Ravens home on the road
The Ravens' first NFL season was 1996; however, this was their ninth playoff road win, tied with the Dallas Cowboys for the second-most in NFL history. Only the Green Bay Packers have more playoff road wins with 10.
Most Road Playoff Wins
Starting QB NFL History
It was Joe Flacco's sixth playoff road win, passing Eli Manning for the most by a starting QB in postseason history.
Unflappable Flacco
Flacco and the Ravens had touchdown drives of 87 and 90 yards. Including Week 3 against New England, Baltimore had four touchdown drives of at least 87 yards against the Patriots. New England allowed just three such drives in their other 16 games combined.
This postseason, Flacco has eight touchdown passes and no interceptions. He had three on Sunday, becoming the fifth quarterback to throw three touchdown passes against the Patriots in a playoff game.
The Ravens used at least three wide receivers on 31 of Flacco's 39 dropbacks (7.5 percent), their third highest rate of the season. Flacco completed 16-of-28 passes for 176 yards and all three touchdowns with three wide-receiver sets.
The win was only the second for Flacco in his career when he and the Ravens were trailing at halftime (now 2-16).
Brady breaks record
Tom Brady threw his 42nd postseason touchdown pass, only Joe Montana (45) and Brett Favre (44) have thrown more in the postseason. Brady also passed Brett Favre for the most passing yards in postseason history with 5,949.
However, Brady's Total QBR for the game was 45.1, 32 points lower than his regular-season average. Flacco's Total QBR was 80.2, more than 33 points higher than his average during the season.
This was the first game this season (13-1, including playoffs) that New England lost when it had more than 100 yards rushing.
Brotherly Love
So with Super Bowl XLVII set, it will be the second game in NFL history between head coaches who are brothers. The first was also between the Harbaughs last season on Thanksgiving -- a game the Ravens won 16-6.