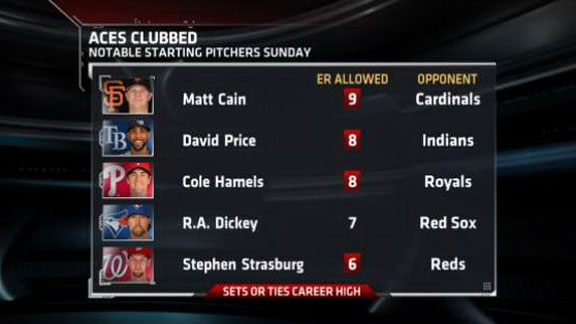 As you can see from the graphic above, Sunday was a rough day to be among the best starting pitchers in baseball.
It was not the best of days for some staff aces. Let's take a closer look at each of their struggles.
Cain matched his career high with nine runs allowed, tying a mark he set against the Cardinals in 2008.
Cain cruised through the first three innings, then could do nothing right in a dreadful fourth inning in which he was charged with all of those runs.
Everything deserted Cain that inning, most notably his slider, which yielded hits to Yadier Molina, Ty Wigginton, and Matt Carpenter.
Price held right-handed hitters to a .232 batting average and .332 slugging percentage last season.
But Indians righties pelted him, going 8-for-18 with a home run and three walks in handing the Rays a decisive 13-0 defeat.
Trouble with righties has been an issue for Price in both starts. They went 7-for-18 with a homer against him in his season debut against the Orioles.
The Price of last season would have gotten 14 misses on the 66 swings that righties have taken against him this season, but so far, Price only has nine.
Hamels allowed eight earned runs, including a big day to the Royals Billy Butler on a day in which he did not have his best fastball.
Hamels' heater was clocked at an average of 90.6 miles-per-hour on Sunday, down 1.4 miles-per-hour from what he averaged in his opening day start against the Braves.
Hamels gave up more hits with his heater (seven) than he did in any start last season and only induced two swings-and-misses with it, after notching five against the Braves.
Dickey allowed as many runs (five) and as many first-inning homers (one) as he did in the first inning in all of 2012, and yielded eight runs in all.
The biggest issue Dickey had was that the Red Sox didn't bite at the knuckleballs he offered that were out of the strike zone. Dickey got Boston hitters to chase only six of 34 such offerings. That rate (17.6 percent) was about half the rate (34.1 percent) at which he got hitters to chase last season. It was lower than any rate he had in a start in 2012.
Strasburg retired nine of the 10 hitters against whom he got two strikes in his first start against the Miami Marlins, but set down only 10 of 16 on the way to giving up six earned runs in a Sunday loss to the Cincinnati Reds.
Among the key two-strike hits were an RBI double by Jay Bruce in the first inning and an RBI single to the last batter he faced, Brandon Phillips, in the sixth.