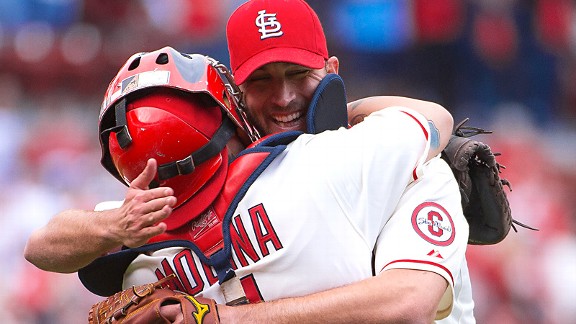 Scott Rovak/USA Today Sports
Adam Wainwright earned a hug from Yadier Molina after his impressive effort.
Adam Wainwright was dominant on the mound and dominant at the plate to boot.
Let's take a look at some of the highlights from the St. Louis Cardinals' third straight shutout-- the first time they've had three in a row since 1988.
The history
Wainwright threw a four-hit shutout with 12 strikeouts and no walks. Only one Cardinals pitcher has had such a start in baseball's live-ball era (which began in 1920). That would be Bob Gibson, who had a 12-strikeout, no-walk, four-hit shutout against the Chicago Cubs in 1964 and a 13-whiff, walk-free four-hitter against the Cincinnati Reds in 1968.
Highest Game Score in Start -- 2013 Season
This walk-free thing is nothing new for Wainwright. He's gone without issuing a walk in each of his three starts this season.
The Elias Sports Bureau notes that Wainwright is first pitcher since 1900 with at least 24 strikeouts and no walks in his first three starts of a season.
The Bill James Game Score metric evaluates starts, with the scale usually ranging from zero to 100, based on innings, runs, hits allowed, walks and strikeouts.
Wainwright's start registered second-best of any this season. The full list is in the chart on the right.
The hitting
Wainwright became the first pitcher to have a perfect day at the plate with at least three hits and two RBIs in nearly five years. The last pitcher to do so was Brett Myers for the 2008 Philadelphia Phillies (in the NLCS against the Los Angeles Dodgers). The last Cardinals pitcher was Jason Marquis in 2005.
The fun comes when you mix what Wainwright did in both departments.
Elias confirmed for us two fun nuggets.
Wainwright is the second player since 1900 to throw a shutout with at least 10 strikeouts and go 3-3 or better from the plate. The other was Bobo Newsom for the 1934 St. Louis Browns (against the Philadelphia Athletics).
He's also the first player with a 12-strikeout shutout AND three hits at the plate since Red Ruffing for the 1932 New York Yankees against the Washington Senators.
What made Wainwright so good on Saturday?
The breaking pitches that have made Wainwright so good in past seasons were at their best on Saturday afternoon.
Wainwright got 12 outs with his breaking pitches and yielded only one baserunner with them.
The Brewers took 27 swings against his curve and slider, missed on 15 of them. That's a 56 percent miss rate -- the highest he's had against those pitches since a start against the Chicago Cubs on Sept. 24, 2010 (64 percent).
Wainwright's seven strikeouts with his breaking pitches are tied for his second-most in a start since the start of last season.
Looking ahead
Wainwright's next start will be against the Philadelphia Phillies on Thursday. In his past three starts against the Phillies, Wainwright has allowed only two earned runs in 20 innings pitched.