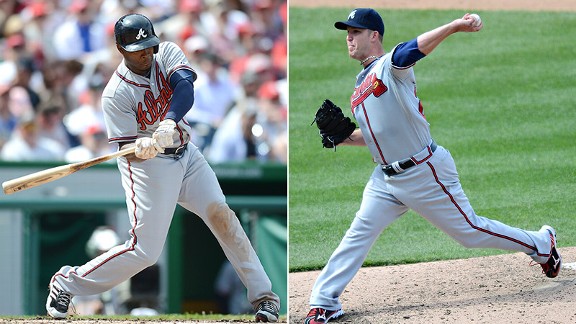 Chuck Myers/Getty Images
Justin Upton and Paul Maholm have been fantastic in 2013The Atlanta Braves have won nine straight and are 11-1 to start the season for the first time since 1994.
Time will tell if that's a good thing: Of the four other teams to start 11-1 since 1995, only one (the 2003 San Francisco Giants) made the postseason. None of the other three (the 2002 Cleveland Indians, 2003 Kansas City Royals and 2009 Miami Marlins) got to even 90 wins.
But right now, the Braves look unbeatable after stomping past the NL East favorite Washington Nationals three straight games this weekend. They outscored the Nationals 18-5, outhomered them 5-2, and drew 16 walks, compared to the Nationals' hitters five.
The Braves have a plus-39 run differential in their first 12 games. In the live ball era, only four NL teams have had a higher run differential through 12 games, the last being those 1994 Braves (plus-47).
Let's look closer at two players whose performances have been integral to the Braves' start and were noteworthy again on Sunday.
Maholm's scoreless streak
Paul Maholm threw 7 2/3 scoreless innings with seven strikeouts for his third straight scoreless start of the season.
The Elias Sports Bureau notes that Maholm is the first Braves pitcher to open a season with three straight scoreless starts.
How Paul Maholm won
Sunday vs Nationals
Maholm has gotten the most out of his offspeed pitches so far this season. He has yielded one hit with his curve, slider and changeup all season. He typically gives up an average of 2½ to 3 hits per game with those pitches.
Maholm can also thank his infield defense for much of his success this season.
Of the 27 ground balls hit against him, 25 have been turned into outs. Over the previous three seasons, Maholm had allowed about 25 percent of ground balls that were hits or errors.
Upton's home-run barrage
Justin Upton became the third player in Braves history to hit seven home runs in the team's first 12 games of the season. Per Elias, the other two were Hall-of-Famer Eddie Mathews in 1959 and Braves legend Dale Murphy in 1985.
Upton has owned the lower half of the strike zone throughout 2013. Of his 16 hits, 14 have come against pitches located in the lower half and below, including all seven home runs.
Upton has gotten back to totally crushing the fly balls and line drives he hits. Of the 24 balls he has hit in the air, seven (the home runs) have traveled 400 feet or longer.
That's a big difference from last year, when 17 of the 240 balls he hit in the air went 400 feet or longer (about one of every 14 balls hit in the air).
When Upton hit his 31 home runs two seasons ago, his rate of balls in the air to those that traveled 400 feet or longer was about one per nine.