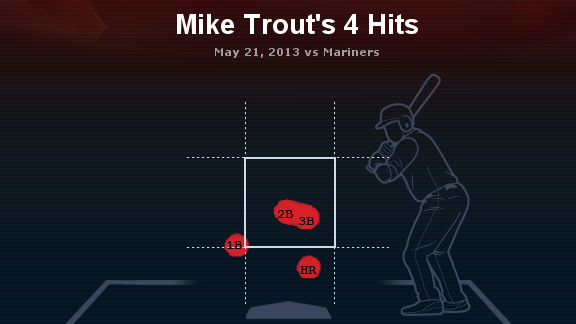 Mike Trout hadn't had a signature moment in 2013, the kind that he had regularly in 2012, until Tuesday night.
Trout became the sixth-youngest player to hit for the cycle, notching a single, double, triple and home run in the Los Angeles Angels' 12-0 win over the Seattle Mariners.
Let's run through our collection of notes on Trout's big day.
The history
The Elias Sports Bureau tells us that Trout is the youngest American League player to hit for the cycle, and the youngest player with one in either league since another phenom, Cesar Cedeno of the Houston Astros, hit for the cycle at age 21 in 1972.
Youngest Players to Hit For Cycle
MLB History
Trout and Alex Rodriguez are the only 21-year-olds in AL history to hit for the cycle. Trout is 25 days younger than Rodriguez was when he hit for the cycle for the Seattle Mariners in 1997.
Trout is also one of only three players in that same span to hit for the cycle in a game in which he also drove in five or more runs and stole at least one base.
The two instances happened more than 80 years ago: Babe Herman for the 1931 Brooklyn Dodgers and Tony Lazzeri for the 1932 New York Yankees.
This was the seventh time someone has hit for the cycle in Angels history, the first since Chone Figgins had one in a loss to the Texas Rangers in 2006. Trout is the sixth different Angels player to hit for the cycle. Former Angels infielder and manager Jim Fregosi had two of them.
It marked the second straight season that a player hit for the cycle against the Mariners. Aaron Hill did it for the Arizona Diamondbacks last season.
Trout's hitting
Trout entered the day hitting .278 for the season. He'd raised his batting average 17 points in May, but was 1-for-12 in his previous four games, and 1-for-9 on pitches in the lower half of the strike zone or below it.
That's unsual because that's the area in which Trout thrived last season.
Trout was the best hitter in baseball when at-bats ended in pitches to that area last season, leading the majors in all three slashline stats (.360/.394/.608). His 21 home runs were tied for seventh-most in the majors.
Until Tuesday, Trout hadn't had that kind of magic, with a .259 batting average against those pitches.
But Tuesday may have cured what ailed him. All four of his hits came against pitches in the lower half of the zone, or just below it, including the final hit, a home run on a pitch that wasn't even knee-high.