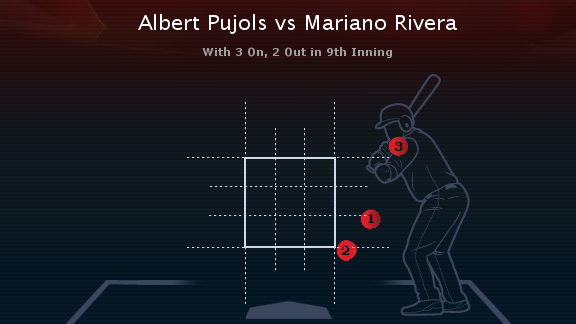 Mariano Rivera had a specific plan for his pitch sequence to Albert Pujols.
Sometimes a baseball game will produce the ultimate matchup and Sunday's Yankees-Angels series finale gave us that-— bases loaded, two outs in a one-run game in the ninth inning with a pair of legends going head-to-head: Albert Pujols versus Mariano Rivera.
Let's go inside the matchup:
The setup
The Yankees had nearly completely frittered away a 6-0 ninth-inning lead after a terrific start by CC Sabathia. Rivera had allowed three hits and a walk in one-third of an inning prior to Pujols' turn.
Albert Pujols vs Mariano Rivera
The Matchup
Entering the at-bat, Rivera had faced a hitter with the bases loaded, two outs and a one-run lead one out from a win on 10 previous occasions. He'd gotten the batter out eight times, including five straight over the last 10 seasons.
Pujols had only been in this situation once before in the regular season and popped out. He also was 0-for-1 with a hit by pitch in two regular-season turns against Rivera.
First pitch
Rivera's first pitch was a strike called, one deemed on the inside corner, though the Pitch F/X pitch-tracking system disagreed (as you can see above).
A lot of pitchers have high batting averages allowed on the first pitch of an at-bat, but Rivera does not.
Over the last four seasons, Rivera has thrown a first pitch to 316 right-handed hitters. Batters who swung made 24 outs (three of which became double plays) and netted only four hits.
Rivera also has among the highest first-pitch strike rates over the last four seasons when the pitch is thrown outside of the Pitch F/X strike zone (36 percent), attributable to getting hitters to chase bad pitches and to getting a lot of borderline pitches called strikes.
Pujols is one of those hitters who hits well in the first pitch of an at-bat (.373 batting average since 2010, about 30 points above major-league average), but he's very discerning.
Pujols typically swings at a rate of about one of every six first-pitches. The average major league hitter swings at about one of every four.
Second pitch
The advantage that comes for Mariano Rivera when he gets up 0-1 in the count is this: If he throws an inside pitch, the hitter becomes very eager.
When Rivera is in that situation and throws a pitch out of the strike zone, but "inside" (defined as: over the inner-third, or off the inside corner), hitters swing more than half of the time.
His 54 percent chase rate on those pitches (dating back to 2010) is nearly 20 percentage points above what an average pitcher would get.
With regards to chasing, Pujols has been an aggressive hitter in the first 60-plus games of the season when he has one strike against him. He swings at nearly half the pitches out of the strike zone in those instances. The typical hitter swings at about a 28 percent rate.
Rivera came inside again and Pujols dinked the ball foul. Now he's behind 0-2.
Third pitch
Earlier in the inning, Rivera had given up a hit on an 0-2 pitch to Peter Bourjos. The pitch was off the inside corner, but Bourjos was able to bloop it to left center.
Rivera vs Opposing Hitters
Bases Loaded, 1 Out from Win
With 1-Run Lead
Bourjos was the first batter all season to get a hit against Rivera after falling behind 0-2. The first 22 hitters Rivera faced in that situation this season, he retired. Bourjos got him, but no one else would.
Since joining the Angels last season, Pujols has not fared well in a situation in which a pitcher comes inside with an 0-2 pitch.
He'd seen 56 such pitches, managed one hit, and made 18 outs.
This 0-2 would again come spinning inside and Pujols could do nothing but try to check his swing.
No luck, strike three. Rivera and the Yankees were winners this time.