G Fiume/Getty Images
Chris Davis hit 12 home runs in June, increasing his major league-lead to 31.If June taught us anything about the way home runs were hit, it would be the fact they come in many shapes and sizes.
On June 22, Jay Bruce hit the longest home run of the month, a 472-foot shot off Patrick Corbin at Chase Field. That tied him for the third-longest home run hit this season and since the beginning of ESPN Home Run Tracker in 2006, only Adam Dunn has hit longer home runs as a left-handed batter off a left-handed pitcher.
Dunn hit a 504-foot HR off Glendon Rusch on September 27, 2008 and launched a 474-foot shot off John Grabow on April 6, 2006.
Masher of the Month
Mark Trumbo his six June home runs, averaging 423.8 feet per homer. His longest was a 457-foot home run off Jordan Lyles, and all but two went over 425 feet. For the season, Trumbo is averaging 417.2 feet per home run, second-longest in baseball to Justin Upton (427.9 feet, min. 15 HR).
On the flip side, Dustin Pedroia hit the shortest home run of the month, a 330-feet dinger off Alexi Ogando at Fenway Park that barely snuck over the Green Monster. Three of the four shortest home runs in June have come at Fenway Park.
Hitting Homers in Different Ways
Chris Davis had the most home runs in June (12) and leads the majors with 31 overall. Davis has shown power to all fields this season, as nine of his home runs have gone to either left or left center field.
Domonic Brown is second in the National League with 21 home runs, however all but one has gone to either right or right center field (he finally hit a home run to center field on June 27). Brown's average home run distance is 381.4 feet, the shortest for any player with 10-or-more home runs.
Check out the home run spray chart for Davis and Brown: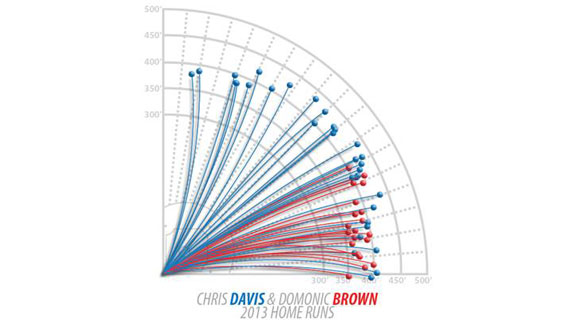 Where Have the Long Home Runs Gone?
On June 8, Jeff Baker hit a 440-foot home run in Toronto, the 16th home run at Rogers Centre to go at least 440 feet this season, by far the most in baseball.
It was also the only time this month Rogers Centre yielded a 440+ foot home run. There have been 23 other home runs hit at least 440 feet in June.
Vastly Different Paths Lead to Same Result
On June 19, Hanley Ramirez hit a home run at Yankee Stadium that went 353 feet. Six days later, Juan Francisco hit a home run at Miller Park that also went 353 feet.
The significance? Ramirez's home run left the ballpark in 3.03 seconds, the second fastest a home run has left any park this season. Francisco's home run was in the air for 7.25 seconds, the longest hang time for a home run since the beginning of ESPN Home Run Tracker in 2006.
Check out the trajectories of each home run (Ramirez top, Francisco bottom):