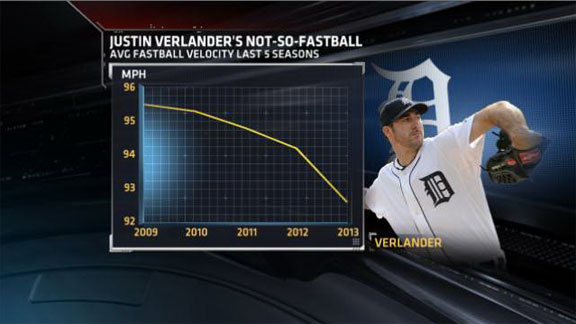 Justin Verlander's velocity has been trending downwards.
For a couple of starts at the end of June/early July, it looked like Justin Verlander had regained the fastball velocity that had been lower than normal in 2013.
But in his last two starts prior to the All-Star Break, Verlander's heater has dropped again in speed.
Sometimes the pitch is still effective, like in his last start against the Texas Rangers, in which he took a no-hit bid into the seventh inning before departing with a tight quadriceps muscle.
Justin Verlander 95+ MPH Fastballs
But more often than not, it has failed to be the dominant pitch with which Detroit Tigers fans are familiar. Even in that game against the Rangers, Texas hitters had four well-struck fly outs against fastballs that Tigers outfielders were able to track down.
Opponents have a .299/.388/.460 slashline against Verlander's fastball, all numbers that would be his worst over the last five seasons if they held up for the duration of the season.
One of the things that has made Verlander so good is that he has four pitches with which he can finish off hitters. But Verlander has already allowed almost as many hits with his two-strike heater (31) as he did the last two seasons (36 in 2011, 33 in 2012).
Opponents have a .277 batting average against Verlander's two-strike fastballs and have missed on 13 percent of their swings. By comparison, last year opponents hit .176 and missed on 20 percent of their swings against that pitch.
Verlander's fastball isn't the only pitch in his repertoire to suffer this season. His offspeed pitches have gotten hit, yielding four home runs, the same total he allowed with them last season. Opponents are hitting .218 against his breaking balls and changeup, 42 points higher than from 2009 to 2012.
Looking Ahead
Verlander has won his last six decisions against the Royals, whom he'll face at 7 p.m. tonight.
He's 15-2 against them for his career, and Elias notes that the .882 winning percentage marks the fifth-best for any pitcher with at least 25 starts against a team in major-league history.
Notable Royals vs Verlander
He's gone at least seven innings and allowed three runs or fewer in nine of his last 10 starts against them.
In two starts against Kansas City this season, he's allowed one earned run in 14 innings.
Keep an eye on how the Royals fare against his heater. The pitch has netted him 18 outs and yielded only three hits against Kansas City in those two games.
About the ESPN Hot Zone
• Use the dropdowns to select sortable information about the player.
• A color will appear when there are at least five at-bats using the selected criteria.
• Click on the image to receive the averages that correspond with the data.
• The raw data will appear when there are fewer than five at-bats using the selected criteria.
Mark Simon contributed research to this post