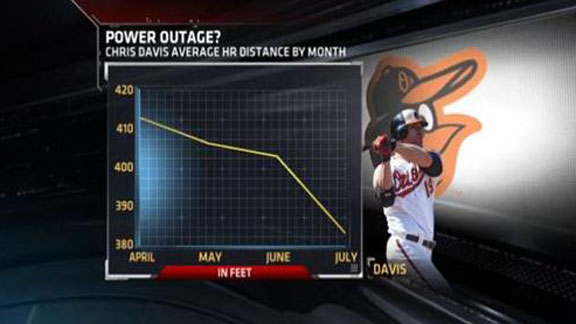 ESPN Stats & Information
Chris Davis has only one homer since the All-Star break.Using the ESPN Home Run Tracker, let's take a look at the notable home run storylines from July.
*Please note: All information goes back to the 2006 season, the first year of the ESPN Home Run Tracker database. In addition, this excludes inside-the-park home runs unless otherwise indicated.
Longest Home Run of the Month – Carlos Gonzalez (454 feet)
Carlos Gonzalez of the Colorado Rockies is responsible for the longest home run of the month, a 454-foot blast off Carlos Villanueva on July 20 at Coors Field. This just edged out Mark Trumbo's 452-foot home run on July 30 by two feet. The 454-footer is the shortest home run distance to lead a month since the beginning of ESPN Home Run Tracker in 2006.
Long home runs were scarce in July, as only four home runs went at least 450 feet. By comparison, there were five home runs hit at least 450 feet on May 15, 2010. Since 2006, there have been eight instances where four home runs of 450 feet were hit in a day.
Shortest Home Run of the Month - Brandon Snyder (312 feet)
On July 29, Brandon Snyder hit a home run off the bottom of the right field foul pole at Fenway Park calculated at 312 feet. It is tied for the shortest home run in the last five seasons.
Home Run Hitter of the Month - Adrian Beltre
Beltre and Alfonso Soriano each hit nine home runs in July, but Beltre gets the nod based on his higher average home run distance (406.3 feet to 399.4 feet). Beltre had five home runs that went over 410 feet, and provided fireworks on Independence Day by hitting a pair of home runs, including a 447-foot blast off Hisashi Iwakuma.
July Power Outage - New York Yankees
The Yankees had 10 home runs in July, the fewest in the American League. That's half as many as the second-to-last team in the AL, the Royals, who had 20. The Yankees did not have a home run in their first 309 at-bats after the All-Star Break, until Derek Jeter homered on July 28.
Post All-Star Break Power Outage - Chris Davis
Davis went into the All-Star Break red hot. He homered in each of the last four days before the break and led the majors with 37 home runs.
Davis has one home run since the All-Star Break, and his average home run distance has declined every month. Davis had only one home run longer than 415 feet in July.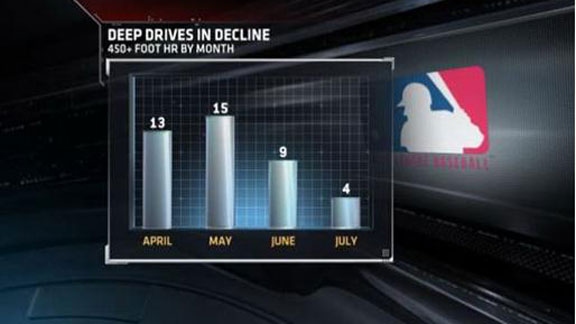 ESPN Stats & Information
There were only four home runs of at least 450 feet in July.