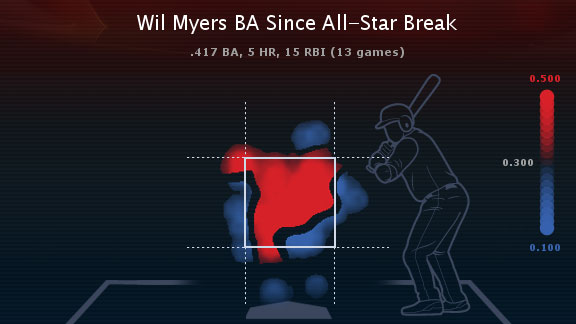 Wil Myers has been almost impossible to get out since the All-Star Break.
It's only 39 games, but Wil Myers has thus far lived up to the expectations set for him when he was traded by the Kansas City Royals to the Tampa Bay Rays this past offseason.
It took Myers about five games to get going, but since then he's acclimated to the big leagues just about as well as anyone could, a run that started with a grand slam at Yankee Stadium in his sixth game.
In the last month, he's elevated his performance to be among the game's best players over that time and he continued that with a homer on Sunday.
Myers went 9-for-19, albeit without a homer, in his last five games before the All-Star Break. In 13 games since the break, he's 20-for-48 with five home runs and 15 RBI.
Myers became the third player in Rays history with at least 50 hits in the first 40 games of his career, joining Rocco Baldelli and Delmon Young. Myers and Yasiel Puig are the only two players who debuted this season to do so.
How he's succeeding
Right out of the break, Myers' strength was hitting pitches that were thrown to the inner half of the plate or just off the inside corner. Lately, he's been crushing pitches that are in or above the upper half of the strike zone.
Sunday's homer against a Guillermo Moscoso hanging curveball fit both the inner-half and upper-half distinctions.
Wil Myers by Pitch Location
The chart on the right shows Myers' overall performance by pitch location this season.
Of note: he has four home runs on 42 swings against pitches in the upper half of the strike zone or above since the All-Star Break after hitting two on 98 such swings prior to the break.
Myers' high overall batting average is partly attributable to an unusual amount of success when hitting the ball on the ground at the start of his career (he's hitting .407 when he hits a ground ball; league average is .230).
Lately, he's been hitting balls very hard. Our video-tracking service has credited Myers with seven "hard-hit" balls in his last seven games.
Since the All-Star Break, 30.6 percent of Myers at-bats have ended with a "hard-hit" ball. He's had a 15-game run that is a near match for Miguel Cabrera's season hard-hit ball rate.
What to Watch For
Next up for Myers and the Rays are the Arizona Diamondbacks. Myers reached base in five of his eight plate appearances against them in a pair of games last week.
The concern for the Rays is the hitter who usually hits the way Myers is hitting now- Evan Longoria.
In Sunday's win, Longoria snapped his streak of 23 straight games in which he had at least one strikeout, and had the tying RBI single in the fifth inning.
Longoria has nearly four times as many swings and misses since the All-Star Break (49) as he has hits (13).
Myers' numbers are nearly equal in both stats (24 swings-and-misses, 20 hits).