Jonathan Daniel/Getty Images
Since signing with Detroit, Fielder has struggled at the plate, mainly against right-handed pitching.There is no shortage of major stroylines surrounding the AL-Central leading Detroit Tigers this season. Miguel Cabrera is en route to another MVP-caliber season. Max Scherzer's is breaking out as an ace. Justin Verlander's uncharacteristic struggles have been well documented. Those have pushed Prince Fielder's struggles to the back seat.
Most Money Owed to Single Player
Starting in 2014 Season
2013 has been a massive disappointment for Fielder, whose OPS sits at a pedestrian .784 entering Tuesday. With the Kansas City Royals and Cleveland Indians on the Tigers' tail, Fielder's play could go a long way towards Detroit holding them off and securing a postseason spot.
It's a growing concern considering how much Detroit is due to pay for his future services. Only two players are owed more money starting next season than Fielder, as the Tigers owe him $168 million through the 2020 season.
His current OPS of .784 would be his worst over a full season by nearly 50 points, and a drop of over 150 points from just last season.
Fielder ranks 230th among position players in Wins Above Replacement – entering Tuesday, he's been worth 0.6 WAR. What specific issues have plagued Fielder this season? Let's take a look.
Issue No. 1: No longer punishing righties
As a left-handed batter, Fielder has long feasted on right-handed pitching. That is anything but the case this year, as his ability to hit for power has diminished considerably against righties.
Prince Fielder: Isolated Power
vs RH Pitchers Last 3 Seasons
Specifically, righties appear to be having a great deal more success throwing offspeed stuff to Fielder, as he's swinging-and-missing far more often against soft stuff from righties.
This season, Fielder is slugging .456 against offspeed pitches from righties while swinging and missing about a third of the time. In 2011, he led the majors with a .654 slugging percentage on offspeed pitches while swinging-and-missing only 24 percent of the time.
Issue No 2: Getting Beat by Fastballs
Regardless of righty or lefty, Fielder is getting beat by fastballs this season. He's slugging only .404 (115th in the majors) against those pitches. Just two seasons ago, Fielder feasted on heaters, slugging .607 against them, 16th among all players.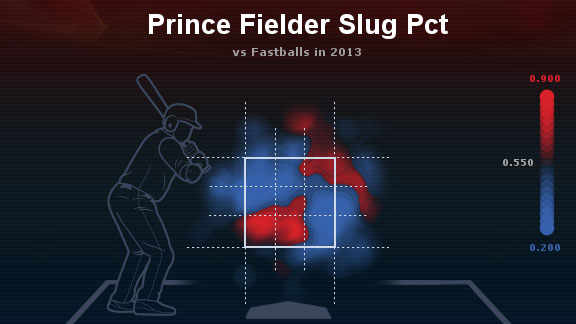 Odds and Ends
Oddly enough, Fielder is still hitting the ball hard. A check of data provided by Sportvision/MLBAM showed that as of a week ago, the average speed of a ball hit in the air off Fielder's bat was 83.5 mph, which was up nearly two MPH from last season and up five MPH from 2010.
Not surprisingly, Fielder has seen a decline in his power numbers since moving from Milwaukee's Miller Park to Detroit's Comerica Park.
In Detroit, he's slugging .504 while hitting a home run every 19.4 at bats. In seven seasons in Milwaukee, Fielder slugged .566 while hitting a homer every 13.9 at bats.
Fielder's power has been sapped particularly when he hits the ball in the air straightaway or to the left side of second base. He had 43 homers to that part of the park from 2009 to 2011, but has only 10 (including three in 2013) over the last two seasons.