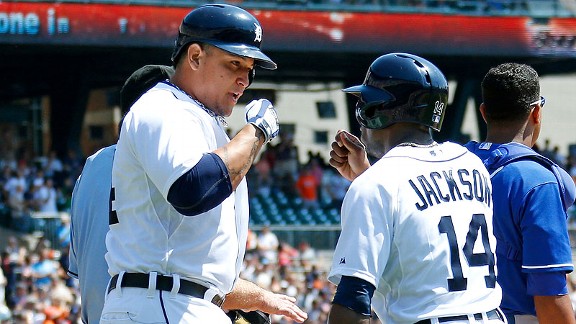 Gregory Shamus/Getty Images
Miguel Cabrera hit his 40th HR of the season on Sunday. On the first pitch he saw Sunday, Miguel Cabrera sent Bruce Chen's 85 mph fastball 403 feet into the left-field seats for his 40th home run of the season in the Detroit Tigers' 6-3 win against the Kansas City Royals.
Cons. Seasons with 40 HR and 120 RBI
Tigers History
Cabrera also finished with three RBI on the day, giving him 120 for the season. He became the third player in Tigers history to post consecutive seasons of at least 40 home runs and 120 RBI, joining Hank Greenberg (1937-38) and Cecil Fielder (1990-91).
And assuming Cabrera can maintain a batting average of at least .330 for the season (it's currently .360), he'd be just the eighth player in MLB history to post consecutive seasons with a .330 BA, 40 home runs and 120 RBI (most recently accomplished by Albert Pujols in 2003 and 2004).
Miguel Cabrera on 1st Pitch
Last 2 Seasons
Going back to that first-pitch home run, we briefly looked at Cabrera's first-pitch success this season earlier in the week. And the same was true Sunday as it was then: he's shown no interest in waiting around if he gets the right pitch. Cabrera has been noticeably more aggressive in swinging at the first pitch this season, and it's continuing to trend that way in August – with great results.
He's actually been improving his performance against the first pitch for several seasons now, with his slugging percentage increasing each season since 2010. In 2010, he posted a .685 slugging percentage against first pitches. He followed that with .724 in 2011, .798 in 2012, and it's 1.012 this season through Sunday.
And not only is Cabrera producing when he swings at the first pitch, but he's among the league leaders in the frequency with which he's attacking those pitches. He's swung at the first pitch of an at-bat 43 percent of the time, fifth most this season and nearly a nine-point jump from a season ago.
Unfortunately for the competition, Cabrera appears to only be getting more productive in these situations as the season goes on. Cabrera is hitting .700 and already has four home runs against first pitches in August, including Sunday (.457 BA, nine home runs the first four months of the season). He's offered at 51.4 percent of first pitches in August, well up from the 41.7 percent he swung at from April through July.