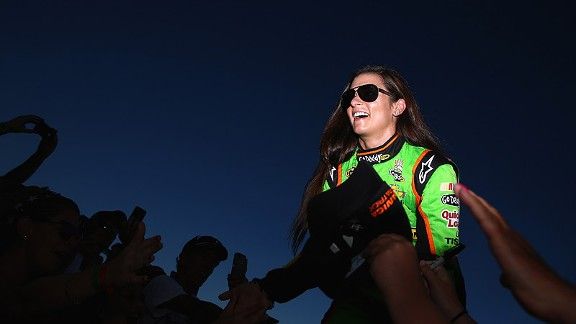 Tom Pennington/Getty Images
Danica Patrick will set a notable record on Saturday night.Saturday night at Bristol, Danica Patrick will again make NASCAR history when she makes her 34th career Sprint Cup Series start, breaking a tie with Janet Guthrie for the most career series starts by a woman.
Not that breaking the record comes as much of a surprise. When it was announced that Patrick would become the first woman to run a full Cup Series schedule, August 24th was immediately known to be the date this mark would be met.
The history of women in NASCAR's top division is pretty sparse. Only 16 women have ever started a Cup race, half of those doing so in NASCAR's first seven seasons (1949-55).
Besides Patrick and Guthrie, only one other woman has even reached double digits in starts, Louise Smith, who ran 11 races in NASCAR's first four seasons.
In the earliest days of NASCAR, participation by women was common. The second race in series history featured three women in the field.
Timeline of Women Drivers
To Race in NASCAR Cup Series
But since Guthrie's retirement in 1980, there have been a total of four women to start Cup races: Patrick, Shawna Robinson, Patty Moise and Robin McCall, and never more than one in a race. Those four have combined to make 48 starts, meaning there's been a woman in 4.5 percent of Cup Series races since Guthrie's retirement.
Despite her not being the first to come along, Guthrie remains the gold standard for women in NASCAR. She has five top-10 finishes, compared to three for all the other women combined. She narrowly missed a number of other top-10 finishes as well, recording five 11th-place runs in her career.
But there are areas where Patrick, despite her racing struggles, has surpassed Guthrie.
Earlier this year, Patrick became the first woman to win a Cup Series pole when she did so for the Daytona 500. Previously, no woman had started better than ninth.
Patrick also led green-flag laps, something no woman had ever done. In fact, the only other woman to lead at all was Guthrie, when she led five laps under caution at Ontario in 1977. However, Guthrie was passed right after the green flag came back out, and eventually finished 24th, 25 laps behind the leader.
Most Starts by a Woman
NASCAR Cup Series History
Since the 500, Patrick's results have been muted. She's finished better than 20th just three times in 22 races. She sits 27th in points, right between teammates from underfunded Front Row Motorsports, David Ragan and David Gilliland. Meanwhile, both of her teammates, Ryan Newman and Tony Stewart, have both won races this season.
An argument can be made that Patrick is driving in a far-more competitive era in NASCAR.
Guthrie's best finish was a sixth in August 1977 at Bristol. But she finished 13 laps behind race winner Cale Yarborough, and was relieved by John Utsman during the race. In fact, in none of Guthrie's 33 career Cup Series starts did she finish on the lead lap.
Guthrie, much like Patrick, had success in the Indianapolis 500, a race and a series that has had much more female involvement, as each of the last seven runnings of the Indy 500 have had multiple female drivers in the field, with seven different women making at least one start.
Patrick's lasting effect on NASCAR may not be her on-track statistical accomplishments, but rather her ability to bring a more diverse field of drivers to the track.