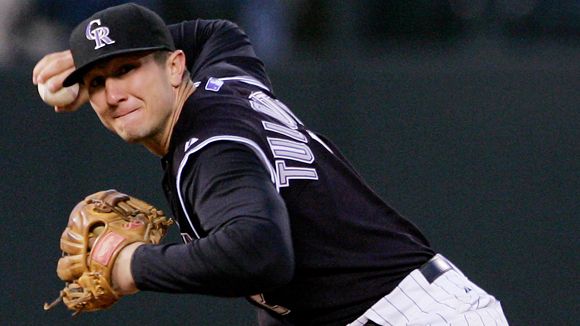 Doug Pensinger/Getty Images
The Rockies' Troy Tulowitzki's abilities in the field only add to his overall value.
The Colorado Rockies enter play on Monday just 1½ games out of 1st in the National League West and 3½ games out of the National League Wild Card. While Carlos Gonzalez has been the team's catalyst for most of the season, shortstop Troy Tulowitzki has picked up the baton, to the tune of .351/.407/1.000 (BA/OBP/Slug percentage) with 14 home runs and 34 RBI since the start of September. As a reaction to this explosion, some have suggested that Tulowitzki might very well walk away with the National League Most Valuable Player award this season. While that's not out of the question, the fact that he missed over a month between June and July hurts his cause.
Taking a broader view of Tulowitzki's production suggests that, while he may or may not be the MVP this season, the contract he signed with the Rockies in January 2008 might be the best value in the game. On Jan. 23, 2008, fresh off a .291/.359/.479 season with 24 HR, 99 RBI and plus defense, Tulowitzki and the Rockies agreed to a six-year, $31 million deal, one which ran from 2008 to 2013 with a club option for 2014. At the time, it was the largest deal ever for a player with less than two years of Major League service.
After a disappointing 2008 campaign, it looked as though the Rockies had ''bought high'' on Tulowitzki. His batting average dropped nearly 30 points, his OPS dropped over 100 and his defense even slipped. But the 2009 and 2010 seasons have fully justified the contract -- and more.
Over the last two seasons, Tulowitzki has averaged 29 HR, 90 RBI, 15 SB and a .309/.383/.569 line. That is outstanding for any player, but particularly a shortstop with above average defense. So outstanding, in fact, that Fangraphs.com calculates that he's been worth $50.1 million combined in 2009 and 2010 ($25.8M in 2009 and $24.3M so far in 2010). Assuming he nets $700,000 more worth of value in the final two weeks of the season, Tulowitzki will join St. Louis Cardinals' Albert Pujols, Washington Nationals' Ryan Zimmerman and Tampa Bay Rays' Evan Longoria as the only players in MLB worth over $25 million in each of the last two seasons.
Between this season and last, the Rockies have paid Tulowitzki approximately $4.5 million, while he's been worth more than $50 million. He's scheduled to make $5.5M in 2011, $8.25M in 2012 and $10M in 2013. Given the amount that Tulowitzki has produced in 2009 and 2010, the contract is already a net "win" for the Rockies even if he doesn't play another game.
The Rockies, of course, hope to be playing well into October. And, if they do, their bargain shortstop will be a big reason why -- MVP or no.