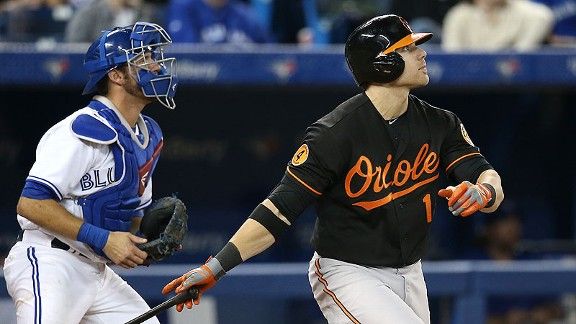 Tom Szczerbowski/Getty Imagest
Chris Davis is only the second Orioles player to hit 50 homers in a season.Chris Davis isn't just having an MVP-caliber season. He's having the type of season we've only seen twice previously in major league history.
Davis hit his 50th home run of the season Friday, joining Babe Ruth (1921) and Albert Belle (1995) as the only players in MLB history with 50 home runs and 40 doubles in a season.
50 Home Runs and 40 Doubles
MLB History
Davis is the first player with 50 homers in a season since Jose Bautista in 2010, and the first left-handed batter to do so since Prince Fielder in 2007.
Only six other lefties have posted 50 homers in a season for an AL team –- Ruth, Ken Griffey Jr., David Ortiz, Jim Thome, Brady Anderson and Roger Maris.
Davis tied Anderson for the Orioles franchise record for homers in a season.
Home runs by Davis have usually led to wins for the Orioles. The Orioles are 30-17 in games in which Davis has a homer this season, including 3-0 when he has multiple home runs. They are 47-52 in all other games.
Similarly, the Orioles are 48-26 when Davis has an RBI, including 21-10 when he has multiple RBIs, but only 29-43 when he fails to drive in a run.
Davis has had a spectacular season, but does he deserve the AL MVP award?
His power numbers suggest he does, but consider this: Davis doesn't even have the most Wins Above Replacement on his own team. Entering Friday, Manny Machado (6.6) had a slight edge over Davis (6.5) in WAR. Davis ranked sixth in the AL among hitters, also trailing Mike Trout, Josh Donaldson, Robinson Cano and Miguel Cabrera.