AP Photo/Patrick Semansky
It has been a rough start to the season for Robert Griffin III.Robert Griffin III was "all-in" for Week 1 this offseason with his recovery from an ACL injury. Now that's he back though, the Washington Redskins don't appear to be all-in on him.
Mike Shanahan hasn't been putting Griffin in a position to run this season, and it's hurting the Redskins' offense. Below is a look at how:
THE CATALYST
The Redskins have used the zone-read on only five rushes this season, all of which have been handoffs to Alfred Morris.
Last season the Redskins used zone-reads seven times per game, averaging 45.5 yards on those plays. Griffin kept 36 percent of the time.
The Redskins have trailed frequently this season, but based off of last season that wouldn't be a major hindrance. The Redskins were more likely to use the zone-read when trailing last season (27 percent of rushes), than when ahead or tied (20 percent of rushes).
LESS ZONE READ = LESS PLAY ACTION
Griffin has attempted 16 play-action passes this season. Last season he averaged 10 per game.
Play action was a major part of the Redskins' offense last season, accounting for a league-leading 42 percent of the team's pass plays and a league-leading 59 percent of the team's pass yards.
This season, only 18 percent of the Redskins' pass plays have utilized play action, and only 22 percent of the passing yards have been via play action.
LESS PLAY ACTION = LESS BIG PLAYS
A look at the passing charts below shows that when Griffin uses play action, he likes to stretch the field.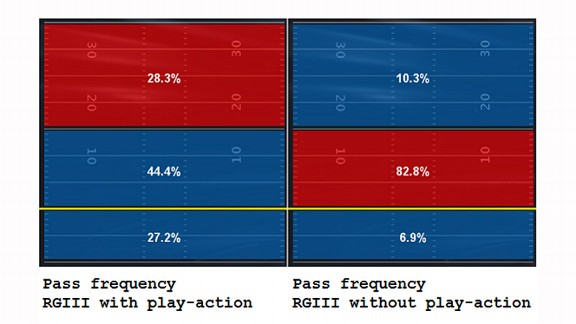 In his career, 73 percent of his attempts 15 yards or more downfield have been set-up with a play fake.
With less play action this season, Griffin hasn't had much success throwing long. Griffin is 6-of-16 (38 percent) passing 15-plus yards downfield through Week 2.
In his career, Griffin has completed 58 percent of those attempts when using play action (2-of-4 this season). Without play action, Griffin's completion percentage drops to 42 percent (4-of-12 this season).
IT ALL EQUALS MORE PRESSURE
The zone-read has been successful in the NFL because with a dual-threat quarterback, defenses and potential pass rushers have to freeze to read a play.
This is particularly evident on rushes. The zone-read in the NFL has led to an average of 4.3 rush yards before first contact the last two seasons, compared to a 2.6 average on non-zone-reads.
Griffin III Facing 5+ Pass Rushers
Last 2 Seasons
The zone-read can also keep quarterbacks from seeing too much added pressure in the passing game. This was especially true for last season's Redskins.
Griffin faced at least five pass rushers on a league-low 21 percent of dropbacks last season and was able to hold onto the ball for an average of 3.4 seconds before passing, scrambling or taking a sack.
This season Griffin has faced added pressure at double the rate of last season, and he's been forced to get rid of the ball quicker on those plays, an average of 3.0 seconds per dropback.
THE SOLUTION?
Although it seems like an easy decision to let Griffin run more, doing so brings in a new set of risks.
Last season, Griffin took contact on 55 of his 72 designed runs (76 percent). That works out to an extra three hits per game.
If the Redskins want to turn the offense around, that may be a risk they need to take.