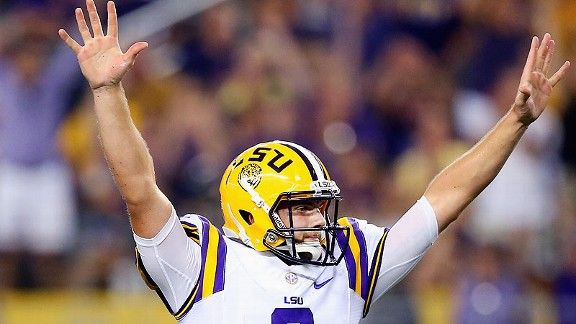 Ronald Martinez/Getty Images
Zach Mettenberger has been highly successful through three games in 2013.After struggling much of last season, Zach Mettenberger might be the most improved quarterback in the nation this year as he enters Saturday's SEC opener against Auburn (7:45 p.m. ET on ESPN).
Biggest Change in Total QBR
From 2012 to 2013
Mettenberger has been playing at a consistently high level this season. In his previous two seasons, he never had three straight games with a raw QBR (unadjusted for opponent) over 50. This season, he's started with three straight games over 70.
He is the only Football Bowl Subdivision quarterback to increase his QBR by at least 50 points from 2012 to 2013 (39.3 to 91.6).
Mettenberger's chemistry with top receivers
His recent success can be directly attributed to a better rapport with receivers Odell Beckham Jr. and Jarvis Landry. The two have been targeted on 62 percent of Mettenberger's passes and have caught all nine of LSU's touchdown passes after combining for seven last season.
Mettenberger has emerged as one of the top deep passers this season, thanks to his improved accuracy when targeting Beckham and Landry on long throws.
His average of 11.6 yards per attempt is fifth in the nation and 4.2 more yards than last season. In addition, his seven touchdown passes of 20-plus yards are the most in the FBS.
This season, Mettenberger has completed 12 of 19 passes traveling more than 15 yards to Beckham and Landry, a significant increase from his completion rate of 41 percent to them last year.
The improved chemistry with his top receivers has also manifested itself on third down. Mettenberger has increased his third-down conversion rate through the air from 36 percent in 2012 to 57 percent this year.
Mettenberger Third-Down Passing
Last 2 Seasons
He's been even better when targeting Beckham and Landry, who have caught all nine third-down pass attempts thrown to them for first downs.
In LSU's opener against TCU, Beckham and Landry converted five third downs into first downs through the air, including Landry's 20-yard touchdown in the fourth quarter that sealed the win.
Mettenberger should be able to continue his third-down success against Auburn this weekend. The Tigers have struggled to defend the pass on third down, ranking 11th in the SEC in opponent QBR and 12th in completion rate this season.
What he must do better against Auburn
Mettenberger played one of his worst games last year against the Tigers, who had the second-worst total defense in the SEC.
He was the only SEC quarterback with a QBR below 50 against Auburn last season and had more turnovers (2) than touchdowns (0). His QBR of 17.7 was his second worst in any of his 18 career games.
Mettenberger struggled to find Beckham and Landry, who combined for five catches for 38 yards on 11 targets. The duo didn't have a catch of more than nine yards, as all three deep throws intended for the two fell incomplete.
Mettenberger was not much better on third down in that game. He missed Landry on all three third-down pass attempts (Beckham wasn't targeted) while committing two key fumbles, including one on the Auburn 2-yard line.
One area in which Mettenberger can exploit Auburn is against the blitz. The Tigers have not generated a sack in 31 drop-backs this season when sending five or more rushers.
That's good news for Mettenberger, who has five touchdown passes when facing five or more rushers, tied for the most among BCS AQ quarterbacks.