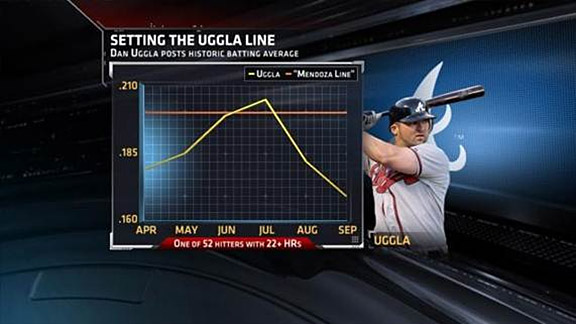 Since the turn of the twentieth century, there had only been 32 full seasons in which a player qualified for the batting title and hit less than .190 (six of those seasons were by Bill Bergen in the early 1900s).
Uggla's Average through:
Dan Uggla made that 33.
Uggla's career-low .179 batting average is the worst by a player who qualified for the batting title since 1991, when Rob Deer hit .179 for the Detroit Tigers.
On a historical scale, Uggla is tied for the eighth-lowest single season average in the Major Leagues since 1901.
The Braves announced earlier today that Uggla would not make their NLDS roster.
How did it come to this?
Uggla had 18 games in which he struck out at least two times and failed to record a hit or a walk, tied for the eleventh-most such games this season.
He is the only player to record at least 18 such games this year and fail to record a three-hit contest.
Uggla vs. Johnson
Uggla may have struggled to reach base via a hit, but his positive WAR this season (0.5) is a testament to his ability to hit for power. He was one of only 52 hitters to hit at least 22 home runs this season and is one of only 12 players whose primary position was second base to drive in at least 55 runs. Only two other second basemen had as many home runs as Uggla-- Robinson Cano (27) and Jedd Gyorko (23).
The Braves other option at second base in the playoffs is Elliot Johnson, who has not fared much better this year: with a .209 batting average and .538 OPS.
But Johnson brings two skills that Uggla doesn't: He's stolen 22 bases in 24 attempts and he has contributed 10 Defensive Runs Saved in fewer than 500 innings at second base.
Uggla has -19 Defensive Runs Saved this season, worst among all players at second base.
Stats of the Day: Where these Braves fit historically?
There have only been nine teams to finish with a player that qualified for the batting title while hitting below .190 that had 80-win seasons. All but the Braves and 1991 Tigers are from the dead-ball era.
The Braves .593 winning percentage is tied for the second-best of any team that had such a player.
The Braves actually survived this season not just with Uggla on their roster, but B.J. Upton and his .184 batting average (in 446 plate appearances) as well.
They are one of only two teams in major-league history to carry two players who batted .190 or below in a season with at least 400 plate appearances. The only other was the 1917 Indians.