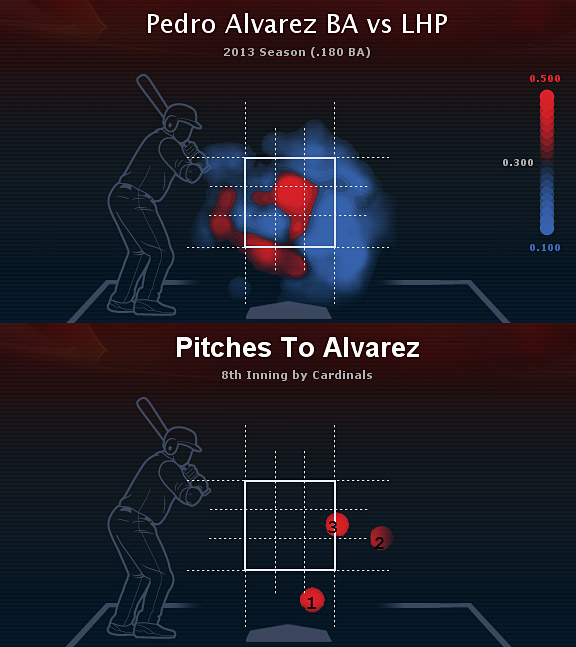 Pedro Alvarez entered Sunday hitting .180 against left-handed pitching. That was the fourth-lowest batting average of any hitter who had at least 100 at-bats against lefties in 2013.
But there was more to know about Alvarez that made what happened in his decisive at-bat in the Pittsburgh Pirates' Game 3 win over the St. Louis Cardinals even more unlikely.
Alvarez was facing Cardinals left-hander Kevin Siegrist with the score tied and runners on first and second with one out in the bottom of the eighth inning.
The two had gone head-to-head five times previously. In those five meetings, Siegrist threw 23 pitches, 18 of them that were either on or just off the outer third of the plate.
Alvarez & Siegrist in 2013
Regular Season
Alvarez took 13 swings against Siegrist, fouling off eight, missing two and putting three in play (a fly ball to shallow center, a ground out to shortstop and a grounder to second). The five at-bats all ended in outs, including that grounder to second in Game 2.
Siegrist had the right idea in pitching Alvarez away. A look at pitch-performance data shows that Alvarez was feeble against those pitches for the past couple of months.
On July 22, Alvarez got a base hit on a 93-mph fastball just off the outside corner from Nationals left-hander Ian Krol.
Over the remainder of the regular season and including Game 2, Alvarez saw 147 pitches from left-handers that were on, or just off, the outside edge.
Those pitches resulted in 33 outs, three walks, and most notably no hits.
Alvarez missed on nearly half his swings (27 of 59) against them.
On top of that was something else working against Alvarez.
Siegrist throws his fastball hard enough to clock in the mid- to upper 90s on the radar gun.
Alvarez saw 46 pitches from lefties during the 2013 regular season that registered at least 95 mph. He had little chance against them. He went 0-for-10, reaching base once when one missed for ball four.
Alvarez did not have a hit against a fastball thrown that hard by a lefty since July 16, 2012, when he homered against Rex Brothers of the Colorado Rockies.
When Siegrist got Alvarez out in Game 2, it was on a pitch thrown 97 mph.
After seeing a pair of fastballs to the outer edge at 96 and 97 mph from Siegrist in Sunday's at-bat, Alvarez had a pretty good idea what was coming.
He was able to time his swing on a fastball thrown 95 mph and ground it to the right side. This one got through, plating Josh Harrison with the go-ahead run.
Alvarez (and Marlon Byrd) has now driven in five runs in four games this postseason. That matches the most in Pirates history through a player's first four postseason games (Bob Robertson had five for the 1971 Pirates).
And he moved them one step closer to advancing to the National League Championship Series.