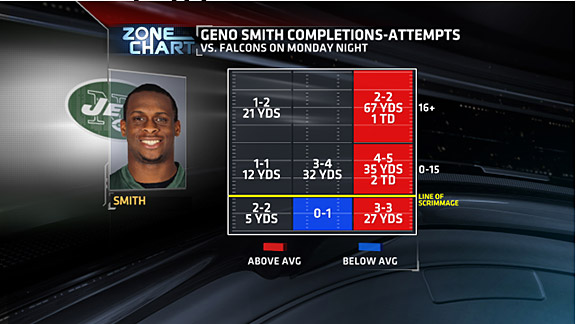 Geno Smith was particularly accurate on Monday night.
Geno Smith did it again.
Smith led the Jets to an unlikely road win on Monday Night Football in Atlanta and there were accolades aplenty for his effort.
A night to remember
Geno Smith became the second rookie starting quarterback to win on the road on Monday Night Football in 17 tries, joining Ed Rubbert, who was a replacement player for the Washington Redskins.
3 Pass TD on Monday Night Football
Rookie QBs
He's also the second rookie to throw at least three touchdown passes on Monday Night Football, joining Dan Marino (1983 against the Cincinnati Bengals).
Smith completed 16 of 20 passes, an 80 percent completion rate that ranks best for a rookie quarterback with at least 10 attempts in a Monday Night Football game.
This was the NFL-high third game-winning fourth-quarter drive quarterbacked by Smith this season. It was the second time this season that he's quarterbacked a fourth-quarter comeback.
Prior to this season, the Jets only had two regular-season games in their history in which their rookie quarterback led a fourth-quarter comeback win (in 1973, by Bill Dmemory against the Patriots and in 1984 by Ken O'Brien against the Bills).
Smith is the third quarterback in Jets history to complete 80 percent of his throws with at least three touchdown passes, joining O'Brien (1986 against the Seahawks) and Chad Pennington (2002 against the Lions). He's the first quarterback to complete 80 percent of his passes against the Falcons since Tom Brady did for the 2005 Patriots.
But even bigger than that: He's the first rookie in the Super Bowl era to go on the road and have a game in which he completed at least 80 percent of his passes, threw for at least three touchdowns, and had no interceptions.
How he won
Smith's poise was what won him the game.
Smith was good early in the game when the Falcons sent at least five pass rushers. He completed 6-of-7 attempts for 62 yards in those situations, including two touchdown passes.
In his first four games, Smith was vulnerable to that aggressive of a rush, going 25-for-48 with two touchdowns, two interceptions and seven sacks.
The Falcons would only sack him once with a five man rush on Monday.
Smith also looked very composed in the fourth quarter, going 6-for-6 with a touchdown pass, and 4-for-4 on the Jets final drive.
Smith was 14-for-27 with three interceptions in the fourth quarter in his first four games.