Getty Images
Justin Verlander (left) and Sonny Gray (right) struck out at least 9 and allowed zero runs in Game 2.The Detroit Tigers visit the Oakland Athletics in Game 5 of the ALDS tonight (8:07 ET/ESPN Radio). Detroit is 2-0 in ALDS Game 5s (2011 and '12) and is looking to advance to the ALCS for the third straight season (would be first team to do that since the 1998-2001 New York Yankees).
Oakland is 0-5 all-time in ALDS Game 5s and will be looking to advance to the ALCS for the first time since 2006. The A's were eliminated by the Tigers in their past two trips to the postseason (2006, 2012).
According to the Elias Sports Bureau, Oakland is 1-11 since 2000 in games in which they had a chance to eliminate an opponent from a postseason series.
Let's take a look at some other storylines for this game.
Winner-Take-All Matchups
In Consecutive Postseasons
History Lesson
This will be the seventh time that two teams have met in a winner-take-all postseason game in consecutive years.
The last time it happened, the Boston Red Sox and Yankees met in consecutive Game 7s of the ALCS in 2003 and 2004.
The last team to win the first meeting and the rematch was the Yankees, who beat the Athletics in consecutive ALDS Game 5s in 2000 and 2001.
The team that won the first winner-take-all won the rematch three times and lost the rematch three times in the first six instances.
Justin Verlander stats to know
Verlander has thrown three straight scoreless starts dating back to the regular season, with 33 strikeouts in 19 innings, including 11 in the Game 2 duel in Oakland.
He has faced Oakland three times in the ALDS in the past two seasons, going 2-0 with a 0.39 ERA. In those 23 innings pitched, he's struck out 33 and walked six while allowing just 11 hits.
In his Game 2 start against Oakland, Verlander relied on his fastball and curveball to put hitters away. He threw 20 fastballs and 16 curveballs among his 42 two-strike pitches, his second-highest combined percentage (85.7) with those pitches this season. All 11 of his strikeouts came on those pitches.
Sonny Gray stats to know
Gray's eight scoreless innings in Game 2 against the Tigers marked the fourth time that a starter has thrown eight scoreless frames in the 67 postseason games the Tigers have played since 1968. The other three are Bob Gibson (1968 Cardinals), Blue Moon Odom (1972 Athletics) and Chris Carpenter (2006 Cardinals).
Like Verlander, Gray relied on his fastball and curveball in Game 2. All but two of his 111 pitches were fastballs (80) or curveballs (29). That was his second-highest combined percentage (98.2) with those pitches in 11 career starts.
Nineteen of the 24 outs Gray recorded were via strikeout (nine) or groundout (10). None of his 10 groundouts came on fastballs, and five of his nine strikeouts came on his curve.
In that game, Gray became the second rookie on postseason history with at least eight scoreless innings and nine strikeouts in his first career postseason start, joining the Orioles' Mike Boddicker in 1983. Boddicker had 27 career regular season starts under his belt while Gray had just 10.
The Big Bats: Cespedes and Cabrera
The big hitters for each team, Yoenis Cespedes and Miguel Cabrera, have had contrasting performances with regards to a specific pitch location.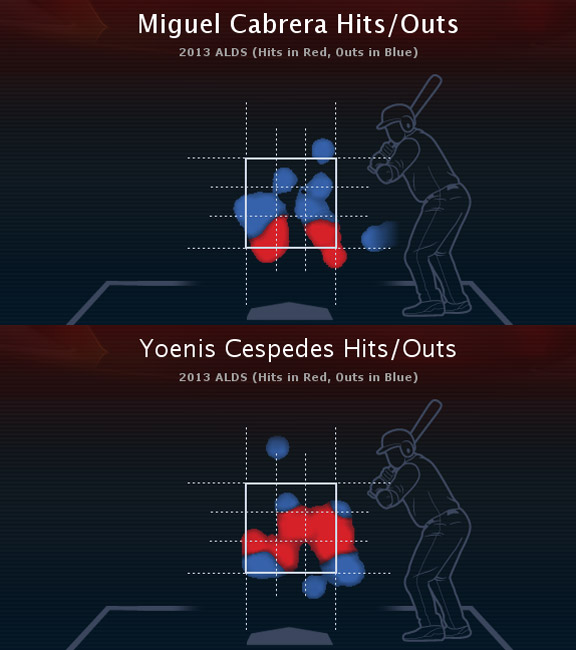 Cespedes is 7-for-18 in the series, with the bulk of that damage (five hits, including a homer) coming on pitches on the inner half of the plate.
Meanwhile Cabrera, who is 4-for-16 in the series and is battling injuries, has struggled to drive the inner-half pitches that he was crushing earlier this season.
Cabrera vs. Inner-Half Pitches
Through the end of August, Cabrera had a .401 batting average and 27 home runs against pitches thrown to the inner half of the plate or off the inside corner.
But since the start of September, Cabrera has only 10 singles against such pitches, against which he is hitting .244. He has two hits versus such pitches in this series, both infield singles.
Justin Havens also contributed to this article.