Maddie Meyer/Getty Images
Geno Smith made the necessary adjustments on his throws to beat the Patriots.What were the biggest keys to the Jets win over the Patriots on Sunday?
Brady containment
Tom Brady entered the day ranked fifth-worst in the NFL at completing throws more than 10 yards downfield. The numbers didn't get any better on Sunday.
Brady was 4-for-20 on throws more than 10 yards downfield in this game. He is 14-for-50 (28 percent) on those throws over the last three games.
In 2011 and 2012, Brady had a completion rate of 48 percent on those throws, which rated 13th-best in that span.
Brady had his third game this season with a sub-50 percent completion rate, his most such games in any season.
Below is a look at Brady's completion rate by throw distance this season, illustrating his overall struggles on his longer throws.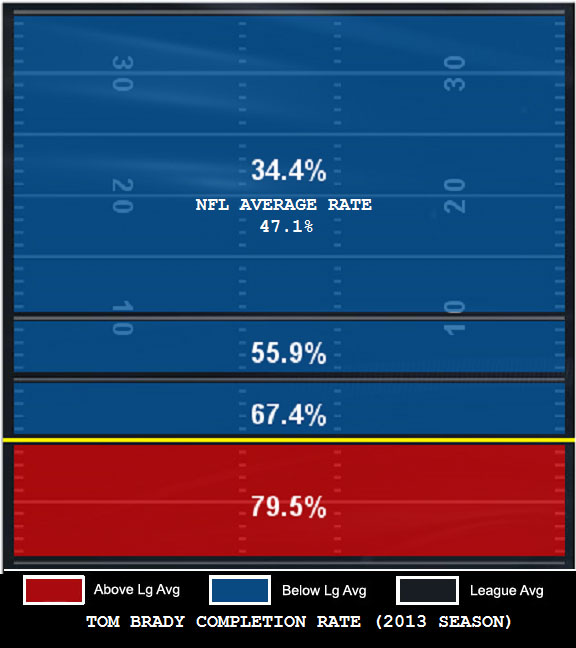 Rob Gronkowski was targeted a career-high 17 times by Brady, but had only eight receptions. It was only the third time since Gronkowski joined the team that he and Brady failed to connect on at least half of their attempts in a game.
Four of Brady's passes to Gronkowski were either defended or intercepted, three of which were intercepted or defended by safety Antonio Allen. Allen had no pass breakups entering the game.
The Jets rarely sent heavy pressure, sending four or fewer pass rushers on 43 of Brady's 49 dropbacks (88 percent).
Brady completed 20-of-41 passes against that pressure, including the interception returned for a touchdown, and was sacked three times.
Geno Smith was good enough
Geno Smith had one blip, with his early pick-six, but got the job done in the end.
Smith completed 7-of-16 passes more than 10 yards downfield, without throwing an interception, after throwing three in 15 attempts in the Week 2 loss against the Patriots.
Smith has only one interception on those passes in wins this season, compared to five in losses.
Smith became the fourth quarterback to lead his team on a game-winning drive in each of his first four career wins since the AFL and NFL merged in 1970. The Elias Sports Bureau notes that the other three are Lynn Dickey, Troy Aikman and Bruce Gradkowski.
Unsung hero: Nick Folk
Though some may attach an asterisk to this, since he had a missed kick wiped out by that controversial penalty in overtime, Nick Folk continued his run of perfection through 2013.
Folk went 3-for-3 on his field goal tries on Sunday, making him 16-for-16 on field-goal attempts this season (the most consecutive kicks made to start a season in Jets history).
Folk has three game-winning field goals this season, one with two seconds left against the Buccaneers, one with no time left against the Falcons, and the one in overtime against the Patriots. Elias notes that is the most game-winning kicks in the final minute in regulation or any point in overtime in a single season in Jets history (Mike Nugent had two in 2007).
Folk has seven field goals this season of at least 40 yards, including all three game winners (48, 43 and 42 yards respectively). He totaled eight such kicks in each of the last two seasons.