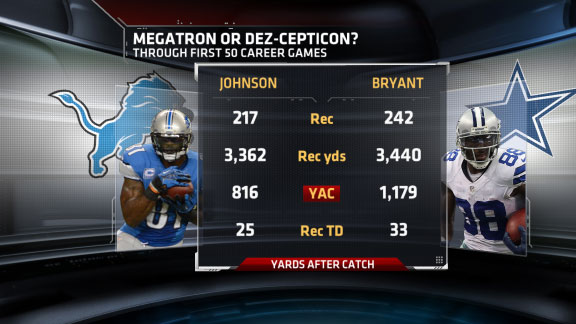 During an appearance on 103.3 FM ESPN in Dallas on Monday, Cowboys wide receiver Dez Bryant made the following statement:
"I believe I can do whatever he (Calvin Johnson) can do."
In comparing the two, you'll see his comment is on point. Below are a handful of notes to help make his case.
• From the start of the 2010 season, Bryant's rookie year, through Week 9 of last season, Johnson had 71 more receptions, 1,576 more yards and 12 more touchdowns than Bryant.
But since Week 10, you could argue Bryant is Johnson's equal. Over that span, Johnson leads the league in receiving yards while Bryant leads the league in receiving touchdowns.
• On third down this season, Johnson has been targeted 19 times and has caught nine balls for 157 yards and two touchdowns.
Bryant has been targeted 18 times and has caught nine balls for 118 yards and two touchdowns.
• How about when their respective quarterbacks are pressured?
Both Bryant and Johnson have been targeted 11 times with his quarterback under pressure. Johnson has one more reception (5) than Bryant. Both have caught a touchdown, but Johnson has 58 more yards than Bryant due to being targeted further downfield.
• Bryant has caught a higher percentage of his passes in the red zone (6-of-9) than Johnson (4-of-11) and has two more touchdowns (5) than Johnson.
• Both receivers have been targeted eight times on throws of 20 yards or more downfield and have two catches on those throws.
Both of Johnson's catches resulted in a touchdown and they combined for 77 yards, four of which came after the catch. Bryant has 117 yards with 47 of those yards coming after the catch.
• When the score is within a touchdown in the second half, Bryant (21) has been targeted four more times than Johnson and has caught 14 passes for 223 yards, with 96 yards gained after the catch.
Johnson has 12 catches for 156 yards, 29 gained after the catch, and has two touchdowns.