After exciting finishes to each of the last two games, The Boston Red Sox and St. Louis Cardinals faceoff one more time at Busch Stadium in Game 5 Monday night.
With the series tied 2-2, Game 5 will be crucial for both teams. According to Elias, teams to win Game 5 in a best-of-seven World Series tied 2-2 have won 26 of 40 series.
Although AL teams are 4-12 away from home in the last six World Series, the Red Sox have won five of their last six road World Series games and are 14-4 all-time in postseason Game Fives, winning the last four.
As for the Cardinals, they lost at home Sunday, but have won seven of their last nine home games in the World Series and haven't lost back-to-back home World Series games since 2004.
Wainwright's Curve
The Cardinals' Game 5 starter, Adam Wainwright, struggled in his Game 1 outing. What does Wainwright typically do well that he failed to do in Game 1?
Effectively use his normal out-pitch, the curveball, to put batters away.
Wainwright
Batters hit .357 off him in Game 1 in two-strike counts, compared to .160 in the regular season and first two rounds of the postseason. Prior to the World Series, Wainwright got ground balls 53 percent of the time he threw the curve, compared to 27 percent in Game 1.
Opponents hit .500 against his curve with two strikes in Game 1, compared to .118 against the pitch prior.
As you can see in the heat map below, he left too many two-strike pitches in the center/upper part of the zone.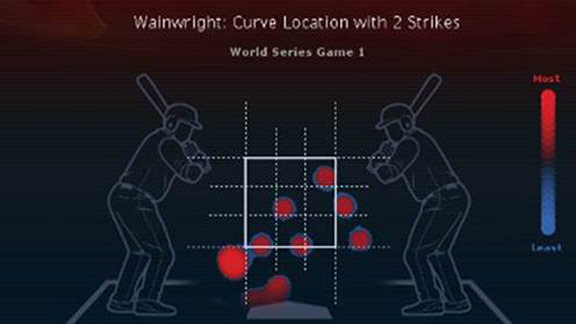 ESPN Stats & Information
Jon Lester stats to know
LesterLester is looking to join Babe Ruth as the only other Red Sox lefty with three World Series wins. He is 2-0 in 13 1/3 IP with no runs allowed in two World Series starts.
If he continues his shutout streak he would be the second pitcher in MLB history to allow zero runs in each of his first three World Series starts (Christy Mathewson). If he wins, he would be the first pitcher to win his first three World Series starts since Jack Morris and the first lefty since Ron Guidry.
In game 1, Jon Lester dominated the Cardinals with his cutter, finishing the game with eight strikeouts, five of which came off the cutter. But can Lester have the same kind of success with that pitch in game 5?
This postseason the Cardinals are batting .348 with an OPS of .957 and two home runs against the cutter, compared to a .211 BA with an OPS of .586 and seven homers on all other pitches.
Cardinals Postseason RBI
Yadier Molina has 12 career RBI in the World Series, the second-most in Cardinals franchise history behind Lou Brock's 13.
Most Postseason RBI
NL History
Over the years, Cardinals batters have racked up a lot of postseason RBI and Carlos Beltran is climbing the charts. His 40 postseason RBI with the Houston Astros, New York Mets and Cardinals are the fourth-most in NL history. He also has 16 career postseason homeruns, the ninth-most in MLB history.