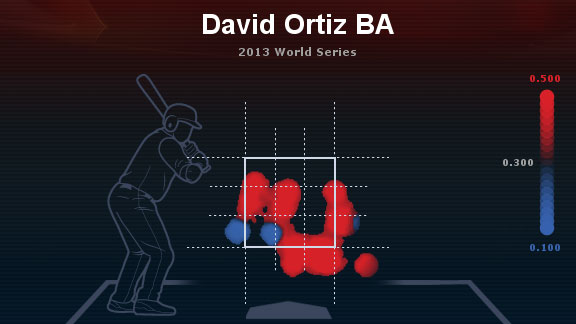 David Ortiz has been impossible to get out this World Series.There were no wacky endings this time around, just a clean, well-pitched baseball game between the teams that entered Game 5 of the World Series with the same number of wins this season and in this matchup.
And in this game, the Boston Red Sox were just a little bit better than the St. Louis Cardinals, edging them 3-1 to take a three-games-to-two lead in the Series.
With a win on Wednesday, the Red Sox can clinch a World Series at home for the first time since beating the Cubs to close out the 1918 World Series.
Lester the better pitcher again
Red Sox starter Jon Lester became the second left-hander in team history with three World Series wins, joining Babe Ruth.
Most Consecutive Starts
Allowing 1 Run or Fewer
To Begin World Series Career
Lester became the fifth pitcher to allow one run or fewer in at least three straight World Series starts to begin his career, the first whose career began after World War II ended in 1945.
Elias noted that Lester's streak of 16⅓ scoreless innings in the World Series was broken by Matt Holliday's fourth-inning home run. That's the third-longest scoreless innings streak to begin a career in World Series history. Christy Mathewson holds that record; he began his career with 28 consecutive scoreless innings in the World Series; Jim Lonborg ranks second with 17 straight for the Red Sox in 1967.
He also became the first Red Sox pitcher with at least seven strikeouts and no walks in a World Series game in 98 years. The last was Rube Foster against the Phillies in 1915.
Lester had a great cutter for the second straight game. He threw the pitch 30 times, netting 21 strikes. Lester got four strikeouts with his cutter in the first four innings, then got three groundouts and a popout with it in the last four innings. It yielded only one baserunner -- David Freese's eighth-inning double.
Ortiz delivers again
Red Sox first baseman David Ortiz was 3-for-4 with an RBI double in the first inning.
Ortiz became the third player to reach base safely in nine straight plate appearances in the World Series, joining Joe Gordon (1939/1941 Yankees) and Billy Hatcher (1990 Reds). Ortiz and Hatcher are the only two to do so in a single World Series.
Ortiz has 11 hits, two shy of the record for most in a World Series, which is shared by Bobby Richardson (1964 Yankees), Lou Brock (1968 Cardinals) and former Red Sox second baseman Marty Barrett (1986 Red Sox).
Wainwright tough in defeat
Adam Wainwright's first six outs came via strikeout. He finished with 10 strikeouts in seven innings.
He is the third different pitcher with at least 10 strikeouts against the Red Sox in a World Series game, joining Deacon Phillippe (who had 10 against them in the very first World Series game) and Bob Gibson (who reached double figures in Games 1 and 7 of the 1967 World Series).
Wainwright had the first 10-strikeout game by a Cardinals pitcher in a World Series game since Gibson against the Tigers in 1968. Gibson had five 10-strikeout games in the World Series for them. Grover Cleveland Alexander and Mort Cooper had one each.
At-bat of the game: Matt Adams vs. Koji Uehara
The Red Sox pulled Lester with two outs in the eighth inning, bringing in a right-hander, closer Koji Uehara, to pitch to left-handed hitting Matt Adams.
John Farrell did this knowing that Adams entered the day with a .292 batting average and .502 slugging percentage against right-handed pitching between the regular season and postseason, and a .219/.384 split against lefties.
But Uehara was the choice because of his numbers. His strikeout of Adams made left-handed hitters 17-for-151 against him in 2013.
Uehara's seven saves this postseason ties a record for a single postseason. The four pitchers with whom he shares the record are John Wetteland (1996 Yankees), Troy Percival (2002 Angels), Robb Nen (2002 Giants) and Brad Lidge (2008 Phillies).
Did you know?
The Red Sox have twice gotten a go-ahead hit in the seventh inning or later of a World Series game from their catcher. The first was Carlton Fisk's game-winning home run in Game 6 of the 1975 World Series. The other was by David Ross in this game.
The challenge for the Cardinals
The Cardinals have to win Game 6 and Game 7 on the road to win the World Series. The last team to do that was the 1979 Pirates against the Orioles.