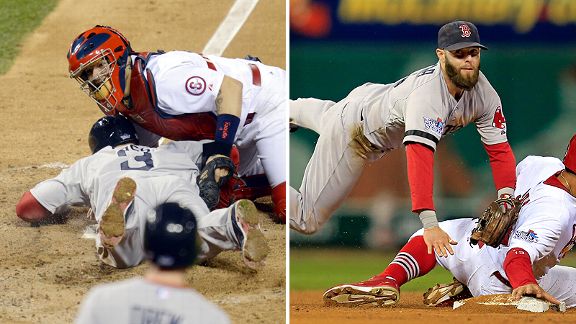 USA TODAY Sports/Getty Images
Yadier Molina and Dustin Pedroia have Gold Gloves to go along with a World Series appearance.
The Gold Glove Awards were announced on Tuesday, with this year's field featuring a nearly even mix of first-time honorees and repeat winners.
For the first time, a statistical component factored into the voting -- the SABR Defensive Index accounted for 25 percent of the vote. The remaining votes came from major league managers and coaches.
Royals, Orioles take home the most Gold
The Royals and Orioles each won three Gold Glove Awards. First-time winners Salvador Perez and Eric Hosmer joined Royals left fielder Alex Gordon, who won his third straight.
AL Gold Glove Winners
Manny Machado, who led the majors in Web Gems at third base, joined repeat winners J.J. Hardy at shortstop and Adam Jones at center field for the Orioles.
With a statistical component comprising part of this year's vote, Jones wasn't necessarily expected to win this year. He was the only Gold Glove winner with a negative defensive runs saved total for the season, but he passed the eye test, garnering enough votes to beat out Lorenzo Cain of the Royals and Jacoby Ellsbury of the Red Sox.
Another one for Molina
Yadier Molina became the fourth catcher to win six straight Gold Gloves, joining Ivan Rodriguez (13), Johnny Bench (10), Bob Boone (7) and Jim Sundberg (6).
Molina's current streak is the best for an NL catcher since Bench won 10 in a row from 1968 to 1977.
Molina's teammate, pitcher Adam Wainwright, won his second Gold Glove. They are the second pitcher-catcher combo to win the Gold Glove together more than once. The other is Kenny Rogers and Rodriguez, who won as teammates in 2000 and 2006.
Victorino, Phillips win again
Red Sox right fielder Shane Victorino and Reds second baseman Brandon Phillips each won their fourth Gold Gloves.
NL Gold Glove Winners
Victorino, who had won three previous times with the Phillies as a center fielder, joined second baseman Dustin Pedroia as Red Sox winners. Victorino finished with a major league-best 23 defensive runs saved in right field, the highest total in any season in his career.
Phillips has won the award four times in six seasons. His four wins are one shy of Hall of Famer Joe Morgan for the most by a Reds second baseman.
New winners becoming a tradition
The corner infield spots in the National League were won by a pair of first-timers: Diamondbacks first baseman Paul Goldschmidt and Rockies third baseman Nolan Arenado.
Goldschmidt is the NL's fifth different winner in the last five years at first base. Arenado is the sixth different winner in six years at the hot corner.
It's been a long time
Some notable droughts were broken with Tuesday's awards. Among them:
Perez became the first Royals catcher to win a Gold Glove since Bob Boone in 1989.
Hosmer became the first Royals first baseman to win a Gold Glove. Hosmer beat out a field that in past years would have been led by Mark Teixeira, Albert Pujols and Adrian Gonzalez. With Teixeira and Pujols injured and Gonzalez now in the National League, the field was wide open at that position.
Machado became the first Orioles third baseman to win a Gold Glove since Brooks Robinson in 1975.
Andrelton Simmons became the first Braves shortstop to win a Gold Glove and the first Braves infielder to win one since Terry Pendleton in 1992.
Carlos Gomez became the first Brewer to win a Gold Glove since Robin Yount in 1982 and the first Brewers outfielder to win one since Sixto Lezcano in 1979. Gomez led the majors with five home run robberies. No other player had more than two.