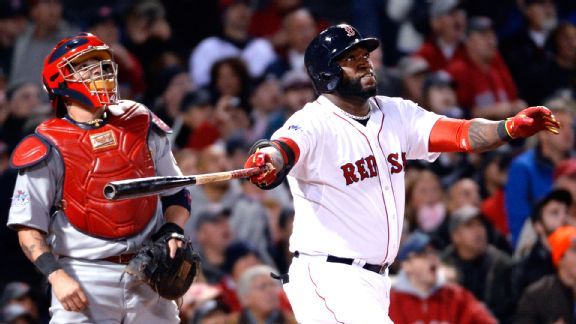 US Presswire
David Ortiz has carried the Red Sox this World Series. Can he help them clinch it tonight?
David Ortiz has the highest batting average, on-base percentage and slugging percentage in World Series history, but that doesn't tell the whole story of his World Series dominance.
David Ortiz has played 13 World Series games in his career
• In six of them, he's either scored or driven in a run on the play with the largest Win Probability Added in the game. In other words, he's scored a run or had an RBI on the most important play of the game in almost half of his World Series games.
• He gets better depending on how many outs there are, hitting .538 with a 1.623 OPS with two outs.
David Ortiz - World Series Career
• He's hitting more than 100 points higher and slugging more than 150 points higher against lefties than righties.
• He's reached base safely in all 13 games, tied for the 10th-longest streak to begin a World Series career (Hank Greenberg - 18).
• He's had a hit in 11 of the 13 games, scored a run in nine of them, and had an RBI in more than half of them (seven).
How do you stop Big Papi?
David Ortiz is on fire in the World Series, but after examining every pitch thrown to him, here is what pitchers have to do to get him out:
David Ortiz on 1st 2 Pitches of AB
2013 World Series
• On one of the first two pitches, the pitcher has to throw an offspeed pitch on the outer third for a strike.
Ortiz is 5-for-5 on the first two pitches of an AB in this World Series, and all five hits are against fastballs.
And he's ignoring any other pitch, with just two swings against 13 offspeed pitches.
• After that, pitchers can't throw him a fastball (unless it is 97 mph with movement), and they have to keep the ball down in the zone.
David Ortiz by Pitch Type
2013 World Series
Ortiz is 9-for-9 with just two whiffs on 19 swings against fastballs in the World Series (one of them was a check swing).
The only out he's made against a fastball was inches from being a grand slam before Carlos Beltran snagged it out of the bullpen.
Wacha has the stuff
Ortiz has been crushing fastballs, but that's also how Michael Wacha has been limiting hitters. Batters are just 7-for-51 (.137) in at-bats ending in Wacha's fastball this postseason.
But all three of Wacha's at-bats against Ortiz in the Fall Classic have ended in changeups. The lone pitch Wacha left up and in the strike zone against Ortiz was one of those changeups in Game 2, that Ortiz launched 375-feet into the Monster seats.
For Wacha to contain Ortiz, he'll have to rely on his offspeed pitches and work down in the zone. That, or hope first base is open.