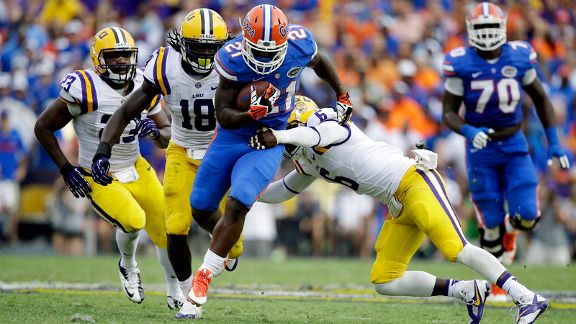 AP Photo/Gerald Herbert
Kelvin Taylor can be a high-impact runner for Florida beginning on Saturday.Florida's offense has statistically been the worst in the SEC, averaging the fewest yards per game (337) and yards per play (4.9). While its quarterback play has been inconsistent, perhaps the most alarming part of Florida's offense has been the decline of its running game.
Florida averages 4.4 yards per carry on designed rushes, worst in the SEC. Last season it was fourth in the SEC, averaging 5.5 yards per designed rush.
With running back Mack Brown struggling in place of the injured Matt Jones, Will Muschamp will turn to highly touted true freshman Kelvin Taylor to make his first career start Saturday. If the Gators use Taylor outside the tackle box, it might find success against a Georgia defense that has allowed multiple rushing touchdowns in four straight weeks.
Where Florida has struggled
The Gators have had little running room for most of this season. They average an SEC-low 2.8 yards before contact per rush on designed runs.
Georgia Run Defense This Season
On Designed Runs
Florida has especially struggled between the tackles, averaging just 3.0 yards per designed run, second-worst among automatic-qualifying schools.
In their last game against Missouri on Oct. 19, Florida ran the ball eight times between the tackles, gaining a total of nine yards. Only once was a Florida back able to gain more than one yard up the middle before being hit by a defender (a nine-yard run by Taylor).
Georgia may feature the best interior run defense Florida has faced all season. The Bulldogs allow 3.1 yards per carry on designed runs between the tackles, best in the SEC.
One reason why is that they have missed only 44 tackles this season, second-fewest in the SEC.
How Kelvin Taylor can help
As good as Georgia has been on inside runs, it has been equally vulnerable outside the tackle box. Georgia allows the most yards per carry outside the tackles in the SEC (6.3)
Florida RB Last 3 Games
On Designed Runs
Taylor should be a big upgrade on Brown in this area for Florida.
Of Taylor's 27 carries, 21 have come outside the tackle box, where he averages 7.0 yards per rush. Brown averages only 3.3 yards per rush on such runs, worst in the SEC (minimum 20 carries).
Taylor's outside running has been a rare bright spot for Florida's offense.
Over the last two weeks, Taylor has 105 rushing yards on 6.6 yards per carry outside the tackles. Florida's other offensive plays average just 2.6 yards per play.
Taylor has been especially good running to the left side. He averages 7.1 yards per carry over left tackle, and his 20-yard touchdown run against Missouri came over left end.
Unfortunately for Florida, starting left tackle D.J. Humphries will miss Saturday's game with a knee injury.
The Gators will have to find a way to run to have a chance to snap their two-game losing streak. Under Will Muschamp, Florida is 2-10 when it rushes for 122 or fewer yards, including losing all three such games this season.