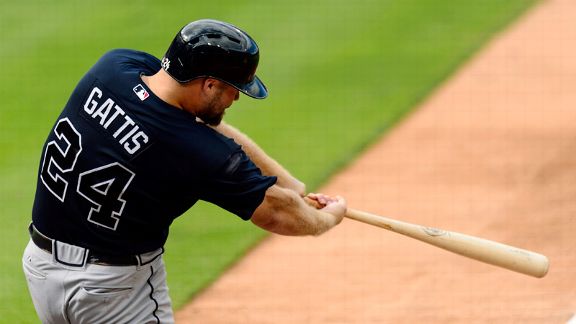 Howard Smith/USA TODAY Sports
This Evan Gattis swing produced the longest home run of the 2013 season.With the 2013 season complete, we take a look back at the long, the short and the lucky among home-run hitters this season.
Longest HR of the Year: Evan Gattis
On Sept. 8, Evan Gattis drove a Cole Hamels fastball 486 feet to dead center field at Citizens Bank Park in Philadelphia for what would finish as the longest home run of 2013.
Gattis' homer is the longest hit by an Atlanta Braves player in the past eight seasons and is tied for the ninth-longest in all of baseball over that same stretch.
That was the longest homer this season by 10 feet. The next-longest was a 476-foot shot by Hunter Pence of the Giants on Aug. 27 against the Rockies
Long Drive Champion: Mike Trout
Longest Average HR Distance
2013 Season (Min. 20 HR)
Mike Trout led the major leagues in average home run distance this season (minimum 20 homers), averaging nearly 420 feet per homer.
Trout hit the longest home run of the season at two different ballparks -- Kauffman Stadium (463 feet) and Tropicana Field (458 feet).
Trout hit 13 homers that traveled at least 430 feet, the most such homers in the majors.
Pedro Alvarez (10) was the only other hitter in double digits.
Shortest Home Run of the Year: Brandon Snyder
On July 29 Red Sox infielder Brandon Snyder hit a ball off of Pesky's Pole at Fenway Park that was calculated at only 312 feet, the shortest homer hit in 2013 (inside-the-park home runs not included).
Snyder's homer is tied for the second-shortest out-of-the-park homer hit in the past eight seasons (trailing only a 311-foot shot by Jeff Keppinger in 2006). It is a familiar story for Fenway Park as the five shortest home runs in the majors since 2006 have all been hit in Boston.
Luckiest Home Run Hitter of the Year: Coco Crisp
Athletics outfielder Coco Crisp finished 2013 with a career-high 22 home runs. Crisp was able to take advantage of short fences down the lines, not hitting a single homer to left center, center or right center field.
Crisp's average home run traveled 368.9 feet, the shortest average distance of any hitter in a single season with at least 20 home runs in the past eight seasons. The next-shortest was J.J. Hardy, who averaged 385 feet on his home runs.
Chris Davis Shows Power to All Fields
Chris Davis led MLB with an Orioles-record 53 home runs this season. He showed power to all fields, with 16 of his 53 home runs going to left or left center field, 14 to center field and 23 to right field. Davis' average homer to center field this season traveled over 422 feet.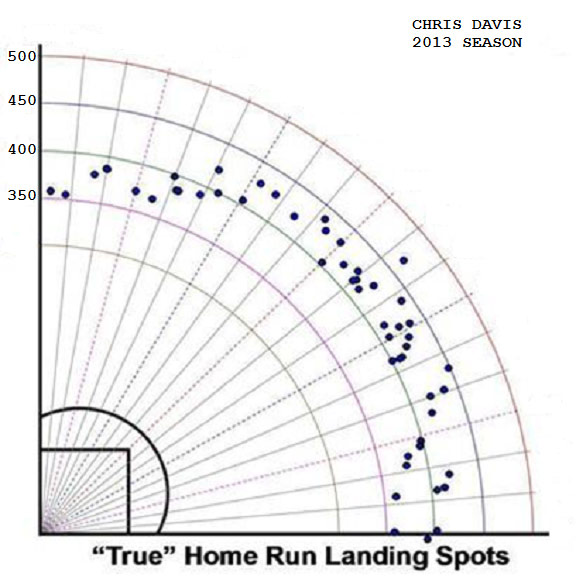 Unlikely Home Run of the Year
Miguel Cabrera finished second in MLB with 44 home runs. Yet, if it was not for the glove of Michael Bourn, he would only have 43.
On May 22, Cabrera hit a fly ball to the center-field wall at Progressive Field.
Bourn, a two-time Gold Glove winner, started to backpedal as he approached the fence. He then leaped with the intention of robbing Cabrera of extra-bases. Instead, the ball ricocheted off his glove for a home run.
Had Bourn not made contact, the ball would have traveled only 386 feet and would not have been a home run in any major league park. In fact, it would have been 38 feet shy of the fence in the same location at Comerica Park, Cabrera's home field.
Longest Postseason Home Run of the Year
Mike Napoli's home run off Anibal Sanchez in Game 5 of the ALCS was calculated at 460 feet, the longest home run of the 2013 postseason. The 460-foot blast is also tied for the second-longest postseason home run since the beginning of ESPN HR Tracker in 2006, trailing only a 479-foot homer by Manny Ramirez in 2007.
Napoli's 460-foot home run was his fourth home run of 2013 (regular and postseason) calculated at 460 feet or more, the most such home runs this year. No other player even had three such home runs.
Only Matt Holliday has had more home runs calculated at 460 feet or more in a season (five in 2006).
Speaking of Holliday, he had three of the 10 longest home runs in the 2013 postseason. His longest was a 430-foot home run off Ryan Dempster in Game 1 of the World Series.
For more information on home-run distances in 2013, go to http://www.hittrackeronline.com