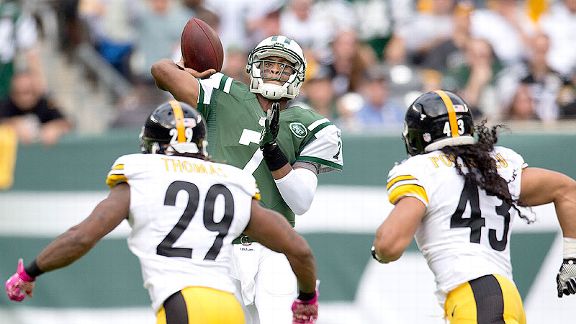 Mitchell Leff/Getty Images
The Steelers defense has been tough on rookie quarterbacks.When the Buffalo Bills face the Pittsburgh Steelers on Sunday, they will likely start one of two rookie quarterbacks, EJ Manuel or Jeff Tuel.
The Steelers defense is coming off a game in which it allowed the most points (55) and yards (610) in team history, but Dick LeBeau's defensive scheme has always done well against rookies.
Best Record vs Rookie QBs
Since 2004 (Including Playoffs)
Including the playoffs, the Steelers are a league-best 16-2 vs rookie quarterbacks since 2004, when LeBeau re-joined the Steelers as defensive coordinator.
The only two rookie QBs to beat the Steelers under LeBeau: Troy Smith in 2007 (in a Week 17 game in which several Steelers starters, including Ben Roethlisberger, sat out to rest for the playoffs) and Brandon Weeden in 2012, when Charlie Batch started for an injured Roethlisberger.
STEELERS D vs ROOKIE QBs UNDER DICK LEBEAU
• 61 – The Steelers defense has made a habit of dragging down rookie QBs, totaling 61 sacks in 18 games.
Prior to his injury, Manuel had been sacked 13 times in five games, and he was sacked eight times by the New York Jets in Week 3.
• 167 – Rookie quarterbacks have averaged 167 passing yards per game against Pittsburgh since 2004.
Manuel has averaged 197 passing yards per game in his rookie campaign, throwing for a season-high 296 yards in Week 2 against the Panthers.
• 20 – Pittsburgh has 20 interceptions (against just 12 passing touchdowns allowed) in that span. The Steelers have held rookie quarterbacks to one passing touchdown or fewer in 16 of the 18 games in that span.
Manuel has thrown three interceptions this season (to five touchdowns), including two against the Ravens in Week 4.