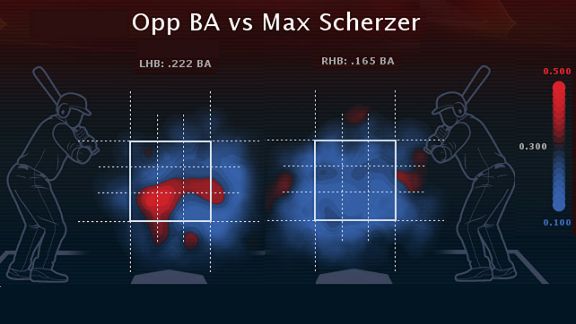 ESPN Stats & Information
Max Scherzer was tough on lefties and almost impossible for righties to get a hit againstWins were the name of the game for Detroit Tigers pitcher Max Scherzer this season, and he added a big win to his ledger by claiming the AL Cy Young Award on Wednesday night.
The history
Scherzer became the fourth different Tigers pitcher to win the Cy Young.
20 Wins and 3 or Fewer Losses - MLB Modern Era (Since 1900)
He and teammate Justin Verlander have won two of the last three. The other two Tigers pitchers to win a Cy Young are Denny McLain (1968 and 1969) and Willie Hernandez (1984).
Scherzer became the fifth AL pitcher in the Wild Card era (since 1995) to start the All-Star Game and win the Cy Young in the same season.
The other four are Randy Johnson (1995 Mariners), Pedro Martinez (1999 Red Sox), Roger Clemens (2001 Yankees) and Cliff Lee (2008 Indians).
Major impovements
Scherzer took a major leap forward statistically in 2013 in a number of areas.
His ERA dropped from 3.74 to 2.90, helped by his walks per nine innings decreasing from 2.9 to 2.4 and his home runs allowed decreasing from 23 to 18, all this despite pitching 26 2/3 more innings
In interviews after winning the award, Scherzer credited the development of his curveball to his success.
He began mixing the pitch in to his repertoire against left-handed hitters, throwing it to them at a rate of once every nine pitches.
LHB vs Max Scherzer
Though the pitch itself didn't net a lot of outs, it added another element for hitters to consider when facing him.
Opposing numbers against Scherzer's fastball and changeup both dropped considerably from 2012 to 2013, as shown in the chart on the right.
Overall lefties went from hitting .292 and slugging .465 against Scherzer in 2012 to hitting .222 with a .367 slugging percentage in 2013.
Scherzer also took his game to another level against right-handed hitters, as the heat map atop this article shows. He held them to a lowest-in-baseball .165 batting average.
Did you know?
The first round of the 2006 Amateur Draft produced both Cy Young Award winners this season. Scherzer was picked 11th overall, four picks after the Dodgers selected Clayton Kershaw and one pick after the Giants selected Tim Lincecum.
Those three pitchers have combined to win five Cy Young Awards in the past six seasons.