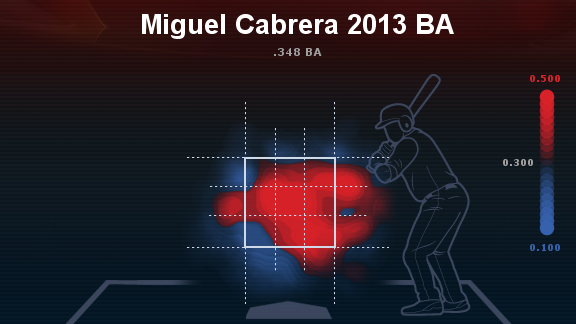 Miguel Cabrera crushes the ball regardless of where it is pitched.Miguel Cabrera won his second straight MVP award on Thursday night, in a season in which he nearly matched the numbers of his 2012 Triple Crown campaign.
That much you know. But here are a few things you might not know about Cabrera as it relates to his second straight MVP.
Led MLB in BA, HR, and RBI
Over 2-Season Span (Since 1920)
• Cabrera is the second Tigers player to win the MVP in consecutive seasons. The first to do so was not Ty Cobb or Hank Greenberg or any of the other Tigers all-time greats. Instead, it was future Hall of Fame pitcher Hal Newhouser, who dominated in both 1944 and 1945 (a time when many players were fighting in World War II).
There has been at least one back-to-back MVP winner at every position on the diamond, but Newhouser is the only pitcher among them.
• The Elias Sports Bureau noted that Cabrera hit .348 with 44 homers and 137 RBIs in 2013. Over the past 80 years, the only other player with consecutive seasons of a batting average of .325 or higher, with 40 homers and 130 RBIs, is Todd Helton for the 2000 and 2001 Colorado Rockies.
• The Tigers are the first AL team since the 1960-63 Yankees to capture three or more straight MVP awards. The Tigers are also the first team to win five of the six MVP/Cy Young awards in a three-year span in major league history.
Most Consecutive Batting Titles
Among RHB All-Time
• You could make a case that this was the best offensive season by a third baseman in major league history. Cabrera's .348/.442/.636 slash line was duplicated by only one other third baseman in baseball's modern era (since 1900). George Brett had a .390/.454/.664 slash line in winning AL MVP for the 1980 Royals.
• What makes Cabrera so much better than the typical major league hitter?
Cabrera had a major league-best nine home runs against pitches outside of the strike zone in 2013. Cabrera hit .263 with a .449 slugging percentage when an at-bat ended with a pitch deemed by pitch F/X to be out of the strike zone. The average major league nonpitcher averages .171 and .230 respectively.
Hand in hand with that, Cabrera hit .245 with a .447 slugging percentage and 14 home runs with two strikes. The average major leaguer hits .182 and .274 respectively. Cabrera's 14 homers trailed only Chris Davis' 19 (and Davis saw 114 more two-strike pitches than Cabrera).